Whether you are staying right in the town of Kill Devil Hills at a vacation rental condo, or just visiting for the day, there are a ton of things to see and do during your time here. Kill Devil Hills is smack in the middle of the Outer Banks, and with a population of just under 8,000 people living there, it is the most populated town as well.
Plenty of people means plenty of great things to do all year long, and the town's central location makes it a perfect launching point for trips for other family-friendly Outer Banks adventures stretching from the beaches of Corolla to Roanoke Island and towns like Manteo.
There are great reasons to stay local. Attractions like Jockey's Ridge State Park, Avalon Fishing Pier, The Wright Brothers National Memorial, and nearby Nags Head Woods Preserve are some of the best in North Carolina and dozens of excellent restaurants like Goombays Grille & Raw Bar, Miller's Seafood & Steak House, and Awful Arthur's Oyster Bar turn out top-notch seafood fresh from the Atlantic Ocean.
A Brief History of Kill Devil Hills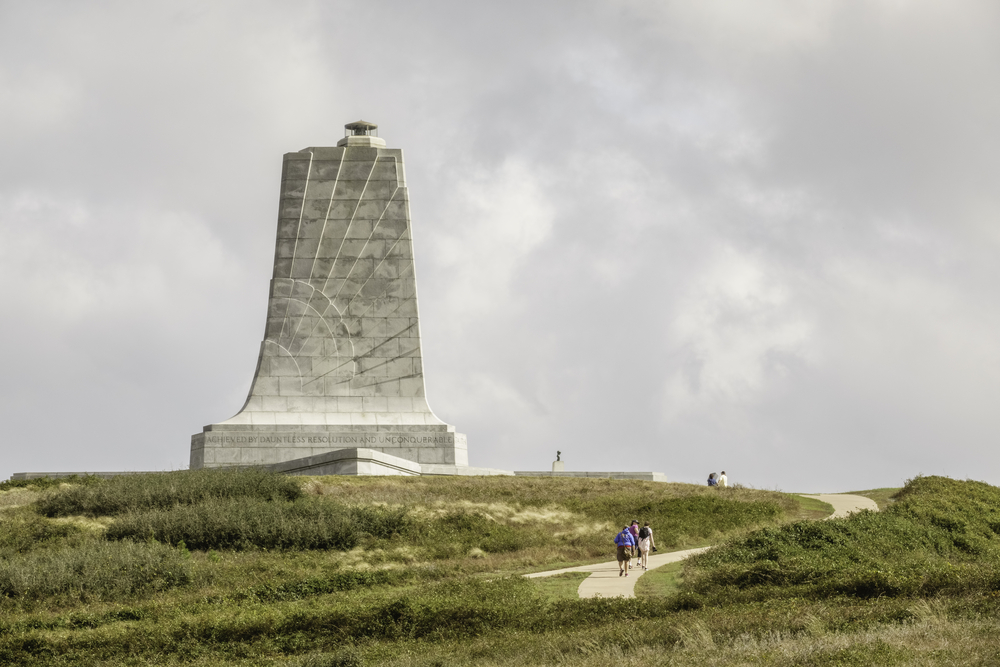 The history of the area is fascinating. Due to its favorable winds and flat land, the town was chosen by the Wright Brothers as the location for their first controlled, powered airplane flights in 1903. The town didn't yet exist at that time and it wasn't officially known as Kill Devil Hills until 1953, well after the first Wright Flyer flights. The closest town at the time of the famous trip was Kitty Hawk, which is famously known as the location of the famous flights and is located about four miles north.
Legend has it that the town gets its name from a time when sailing ships carrying rum from the Caribbean to markets in the north would frequently capsize off the coast of the Outer Banks. Locals would discover the many barrels of rum that would wash to shore, which they claimed was potent enough to "kill the devil himself".
Others say that the story is less dramatic and simply refers to local moonshine created in the area. No one knows for sure, but the name still stands today.
Test Your Luck at the Avalon Fishing Pier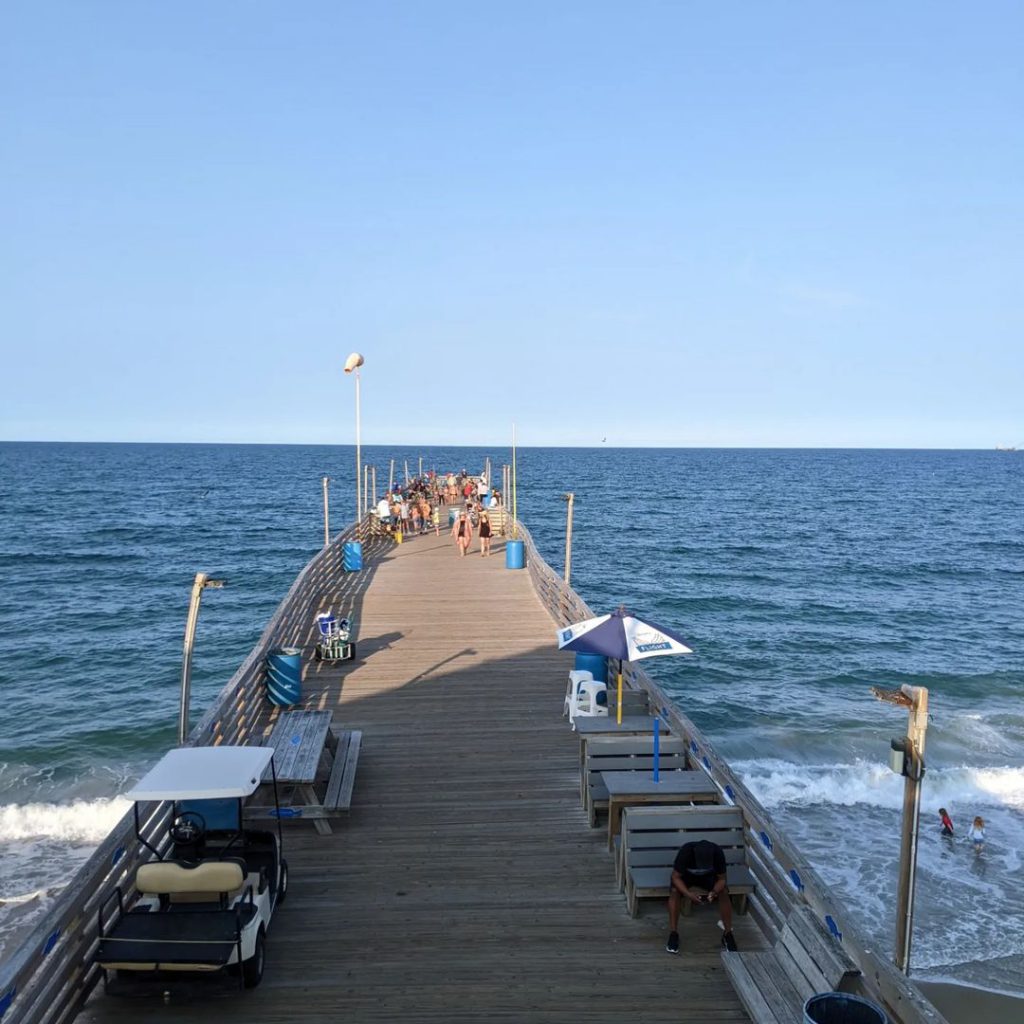 Iconic Avalon Fishing Pier has been around for over 60 years, and while it certainly looks its age, it offers a wonderful combination of fishing opportunities, food and drink, arcade games, and live music all summer long.
The pier opens daily at 6 am and stays open until 11 pm during the week and until midnight on Fridays and Saturdays.
Enjoying the pier is incredibly simple. Just head to the cashier closest to the ocean, and grab a fishing pass. Adults pay $12 and visitors under 17 pay just $6, making this an affordable activity for families or groups. If you aren't much for fishing, you can grab a Sightsee Pass for only $2.00. All Visitors pay only once per day and you can get your hand stamped for re-entry so you can come and go as you please anytime before midnight.
If you are driving over to the pier, there is free parking when you purchase a fishing pass, so make sure not to pay twice for parking!
You can rent everything you need to catch a fish and don't have to worry about a fishing license. Rods are $8 for the day. Grab some bait and snacks and try your hand at catching local favorites like croaker, mullet, bluefish, speckled trout, and puppy drum. Remember to get there early for the best fishing spots.
If somehow you grow tired of catching so many fish, you can head over to Stoney Spencer's Shrimp Shack for a beer and some snacks while the kids test their hands at the many arcade games on the pier. Overall, the pier is great for a few hours of low-pressure oceanfront entertainment.
Let Your Imagination Soar at the Wright Brothers National Memorial and Visitors Center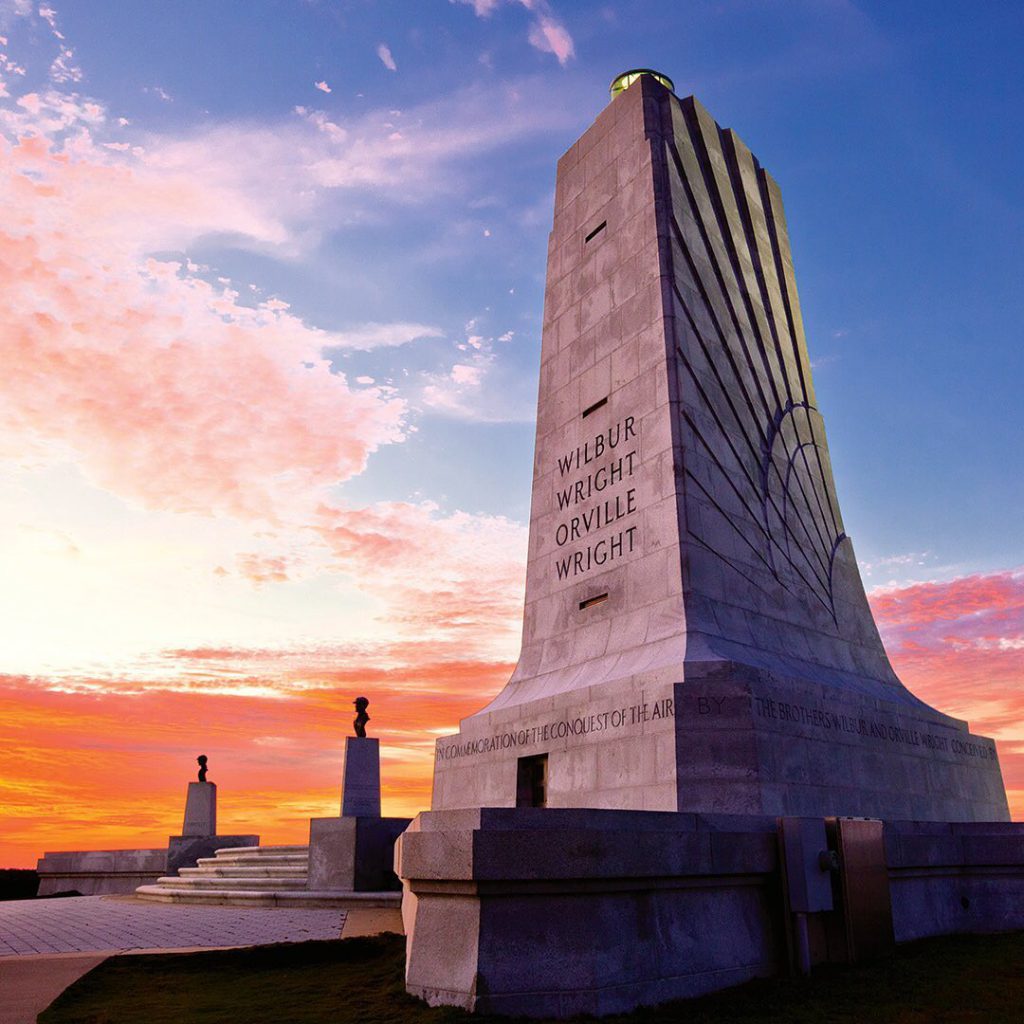 The Wright Brothers National Memorial, which was established in 1932, honors the legacy of the Wright Brothers, who worked tirelessly to realize their dream of human flight.
The enormously popular complex features four main areas to walk around during your visit. The park can get pretty crowded at times, but you can easily switch up the order of your visit and see different parts of the memorial depending on which might be full up at the moment.
The Visitor Center is where you can get the most park information and see new, interactive exhibits about the Wright Brothers' history. The Visitor Center was constructed in 1960 as a National Historic Landmark and was recently refurbished, so now is a great time to visit.
Outside the Visitors Center, you can see The First Flight Boulder & Flight Line. These lines mark the distances of the first four times Orville and Wilbur successfully soared into the air as well as where they made their landings.
Nearby, a reconstructed hangar and living quarters, which were built on the site where Wilbur and Orville Wright stayed while doing research in the Outer Banks, provide a picture of camp life for the Wrights in 1903.
There is also an interactive sculpture of the first flight plane on the southern slope of Kill Devil Hill. Feel free to climb up on the plane and see what it was like to fly for the first time. It can get hot and slippery at times, so keep that in mind, especially on hot or rainy days.
Up nearby Kill Devil hill is the Wright Brothers Monument itself, which memorialized the site of Wilbur and Orville's gliding tests. The hill features a huge statue, a copper bust of Wilbur Wright, and splendid views of the area. It is a bit of a trek, but it is wheelchair accessible.
The Wright Brothers Memorial is open 9 am-5 pm every day and admission is good for 7 days, so you have plenty of flexibility for a visit. This national landmark is not to be missed!
Play a Few Rounds of Mini Golf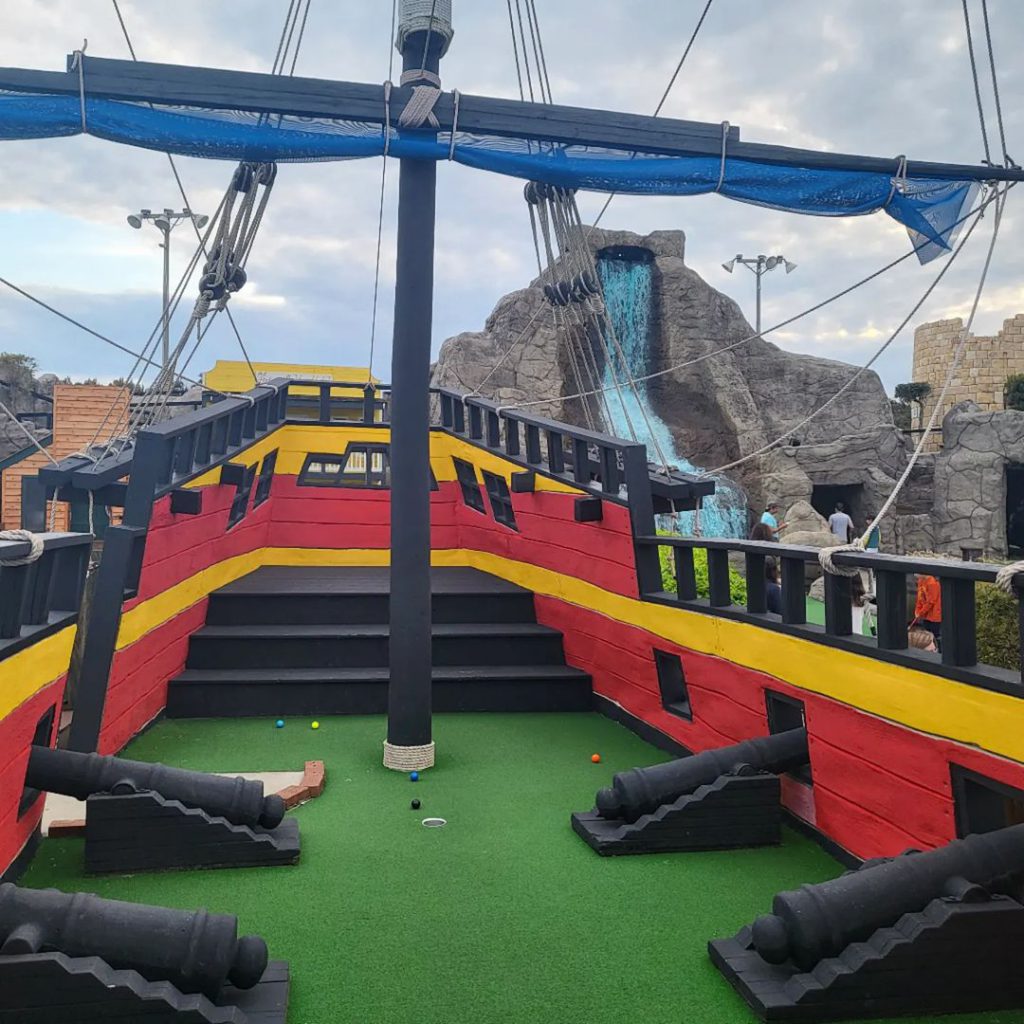 If you were worried that miniature golf is becoming a thing of the past, fear not! Kill Devil Hills hosts two excellent mini-golf parks that offer up fun for all ages.
Lost Treasure Golf provides year-round mini-golf in a fun family-friendly setting. They have two 18-hole courses, themed after the explorations of Professor Duffer A. Hacker, who led expeditions to the outer banks in the late 1920s. Play your way through an old-timey mining town with fun water features and even a train ride!
Paradise Golf & Arcade is another great option and features more than just mini-golf. They also have go-karts, bumper cars, and arcade games. The variety of activities will keep kids entertained for hours on end and make sure they hit the hay early.
Whichever spot you chose, a day on the course is sure to entertain.
Get Active with Outer Banks Kayak Adventures!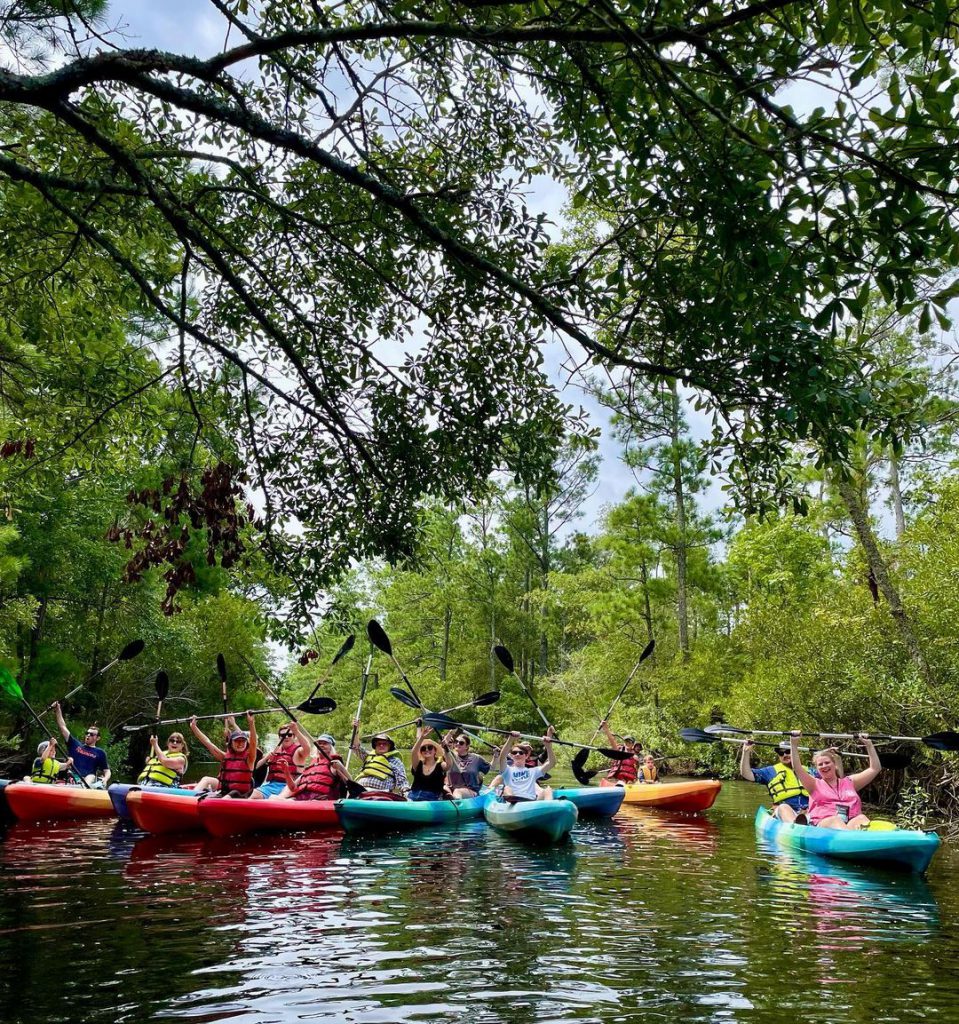 While you can certainly spend a great vacation reading in beach chairs among endless sand dunes, or strolling calmly along the boardwalk, sometimes the best way to feel refreshed is to get moving! Kill Devil Hills offers endless opportunities for outdoor recreation and watersports.
Outer Banks Kayak Adventures offers kayak and stand-up paddle boarding tours in exciting places like the Kitty Hawk Maritime Forest. No prior experience is necessary, and they supply all the necessary gear in addition to a paddle lesson before you head out on the water.
Head out from Ginguite Creek to experience a rare and endangered habitat. The Maritime forest is home to local plants like loblolly pine, live oak, and wax myrtle woods and you are likely to see local wildlife as well. Egrets, river otters, geese, ospreys, kingfishers, and bald eagles are common sites on these challenging and enjoyable trips.
Each OBX Kayak Adventures guide is fully trained in kayak safety and local coastal ecology and is CPR and first aid certified, so you can rest assured you are in good hands. If you and your group are looking for an extra special adventure, you can check out their Bioluminescence and Full Moon Kayak Tours. These twilight trips depend on the moon cycle but are a rare glimpse into a unique aspect of the Outer Banks environment.
If your group is feeling extra spry after your kayak trip, you can try out some surf lessons at nearby establishments like the Outer Banks Surf School, Outer Surf, or Farmdog Surf School.
Go All Natural at Nags Head Woods Preserve and Jockey's Ridge State Park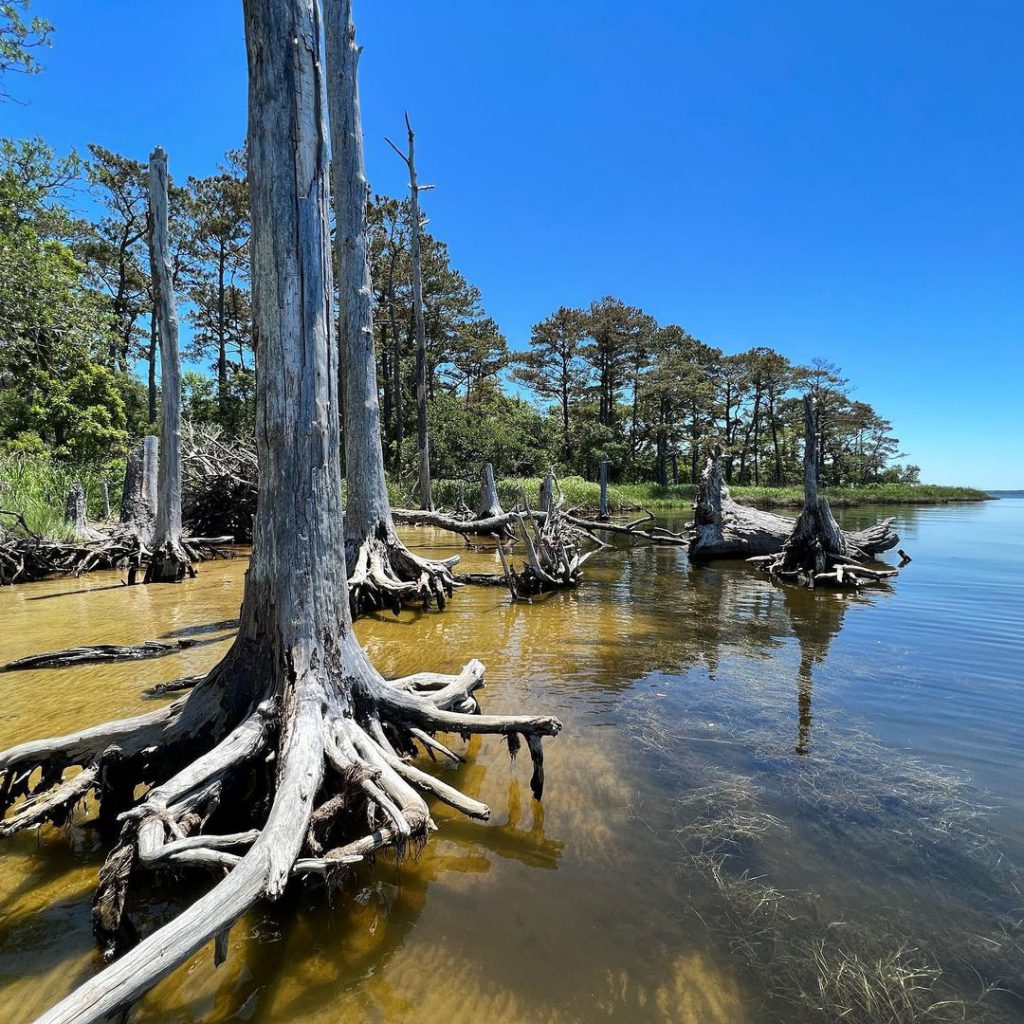 Whether you are looking for an accessible place for a small hike or want to spend a whole day in the woods, the Nags Head Woods Preserve and Jockey's Ridge State Park are great options.
Nags Head Woods Preserve has a variety of trails that pass through some gorgeous natural areas. A day in the preserve is a great way to get away from busier places during peak season and offers a perspective of the Outer Banks that many visitors never get to see.
Located just two miles south of the Wright Brothers National Memorial, off of Ocean Acres Drive, the preserve has a well-maintained handicap-accessible trail that winds around a fishable lake and miles more of easy-to-medium difficulty hiking trails. If you and your group are into wildlife photography, the interdunal ecosystems have some amazing views of the sound and animal sightings are all but a guarantee. Take a loop along the boardwalk and keep your eyes peeled for turtles, foxes, woodpeckers, raccoons, and the occasional coyote or bobcat!
Jockey's Ridge State Park is another unique and peaceful experience in the Outer Banks. Also free to enter, and open year-round, the park is home to the world's tallest dune! If the prospect of hiking over enormous dunes only to see the beauty of the bay isn't enough excitement, you can also go sandboarding on the dunes or try out hang gliding for a unique experience with Kitty Hawk Kites Hang Gliding School.
This park can get hot, so pack accordingly. Sunscreen, water, and good footwear are a must on 90-degree days. The park is also particularly gorgeous at sunset. Treat your group to a unique experience at Jockey's Ridge that they are sure to remember.
Enjoy Your Stay in Kill Devil Hills!
Whether you are fascinated by the history of American aviation or just looking for a great time in the surf and sand, you have plenty of options right here in the Kill Devil Hills. Bring the whole gang for endless days of family fun during your next vacation to the Outer Banks!