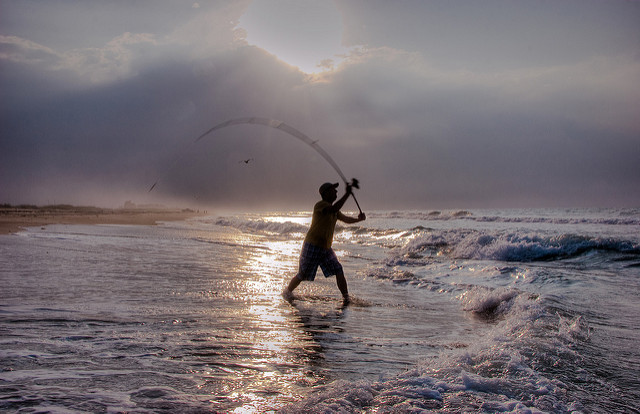 Over the years, Outer Banks has served up some monster catches and earned a well-deserved reputation for unforgettable fun on the water. In fact, the fishing piers of Outer Banks found along the shoreline have even turned into a part of the culture for local residents. At different times of the year, the fish change out, and you can catch different varieties. In fact, something is almost always nibbling here, and most of the piers will include a bait shop where you can ask advice about the types of bait and tackle that the fish have gone after.
What You Need Before Getting Started
Before you cast a line in the water, you should first look at the possibility of getting a Coastal Recreational Fishing License. Anyone above the age of 16 needs a license. You can buy them from the pier tackle shops. In addition, you might need to pay a usage fee to fish from the pier, which costs an average $10 per day. If you want to walk out on the pier, however, it usually costs under $5.00, but the fee will vary based on the chosen pier. Before you head out, you should understand the fishing regulations because many of the fish will have a size limit, and they will usually have a minimum size as well. The cool thing about the piers is how many of them also have a restaurant. For a bit of the culture, you might ask them if they will cook up your catch.
Piers To Fish In The Outer Banks
Before you hop out the door, check that the pier you plan to visit will be open because some close during certain times of the year.
Kitty Hawk Pier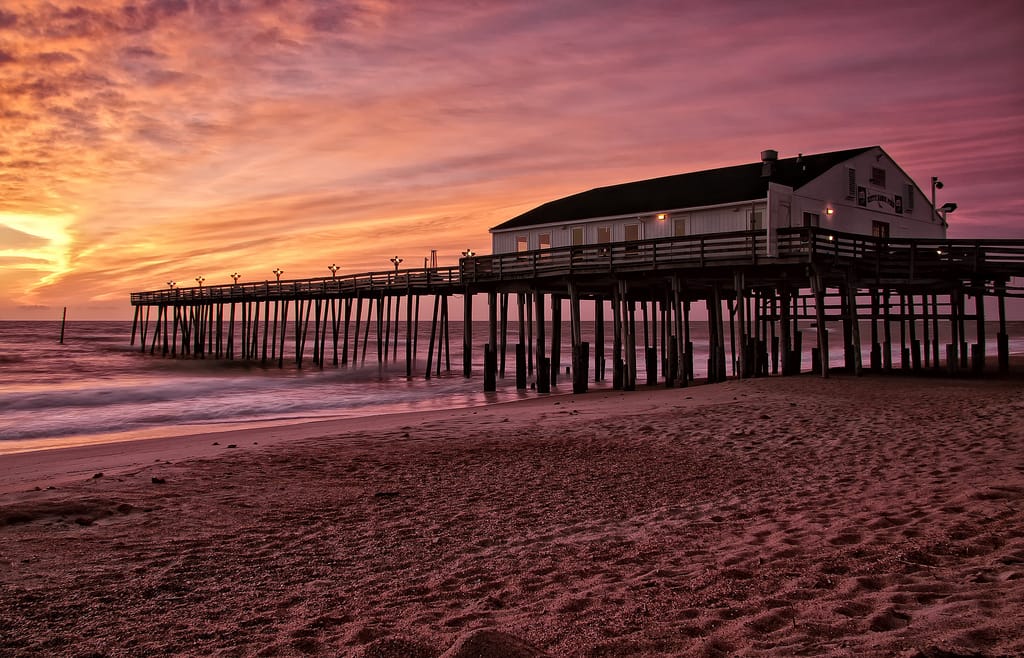 Hilton Garden Inn has owned the Kitty Hawk Pier since 2006. The pier is open for fishing or public use, and it provides an ideal setting for private events  like weddings or social gatherings. The 2,200-square foot Kitty Hawk Pier House accommodates up to 150 guests, while the 3,650-square foot Grand Ballroom can accommodate up to 250 guests. Weekly and annual fishing passes can be purchased at the front desk of the Hilton.
Avalon Fishing Pier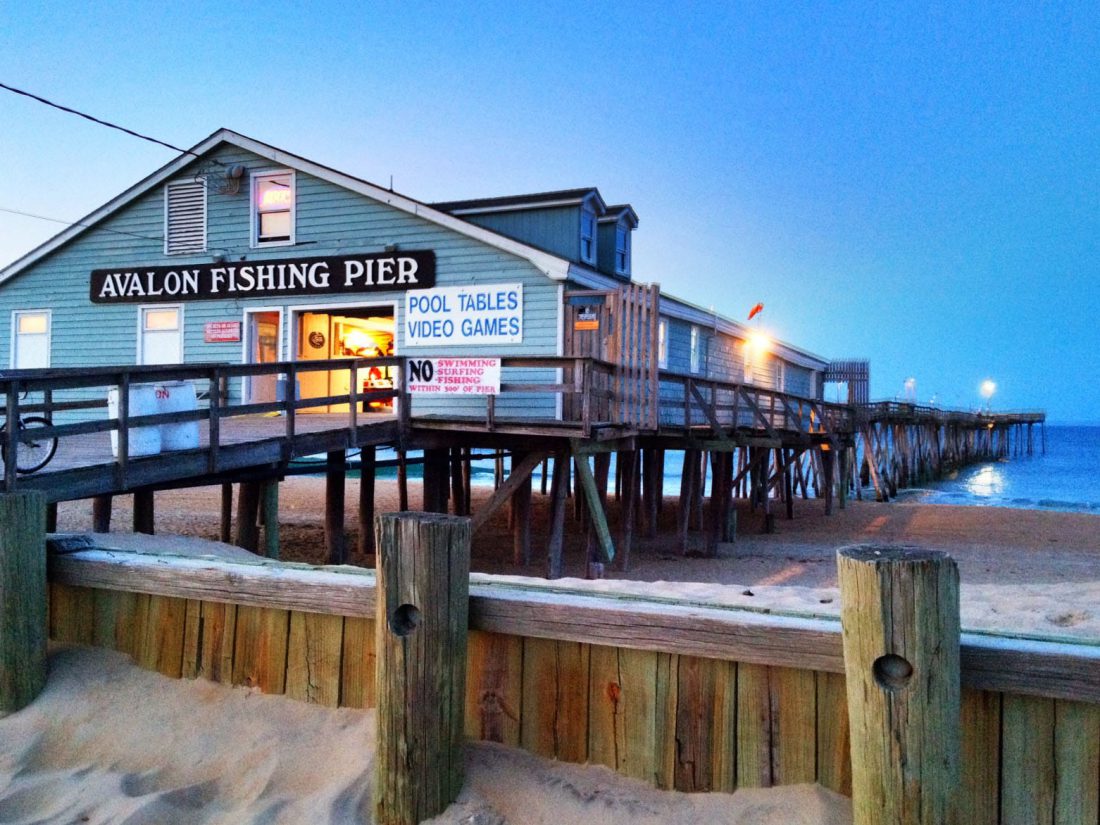 Proudly one of the oldest fishing piers that you will find in Outer Banks, the Avalon Fishing Pier is 700 feet in length, reaching over 12 to 15 feet into the Atlantic Ocean. In addition, you'll find a well-stocked bait shop and expert advice for fishing on this pier – which means you can reel in more mouth-watering catches. An on-site snack bar keeps guests well-fed as they await the catch of the day. Three-day and week-long fishing passes as well as season passes are available for purchase.
Nags Head Pier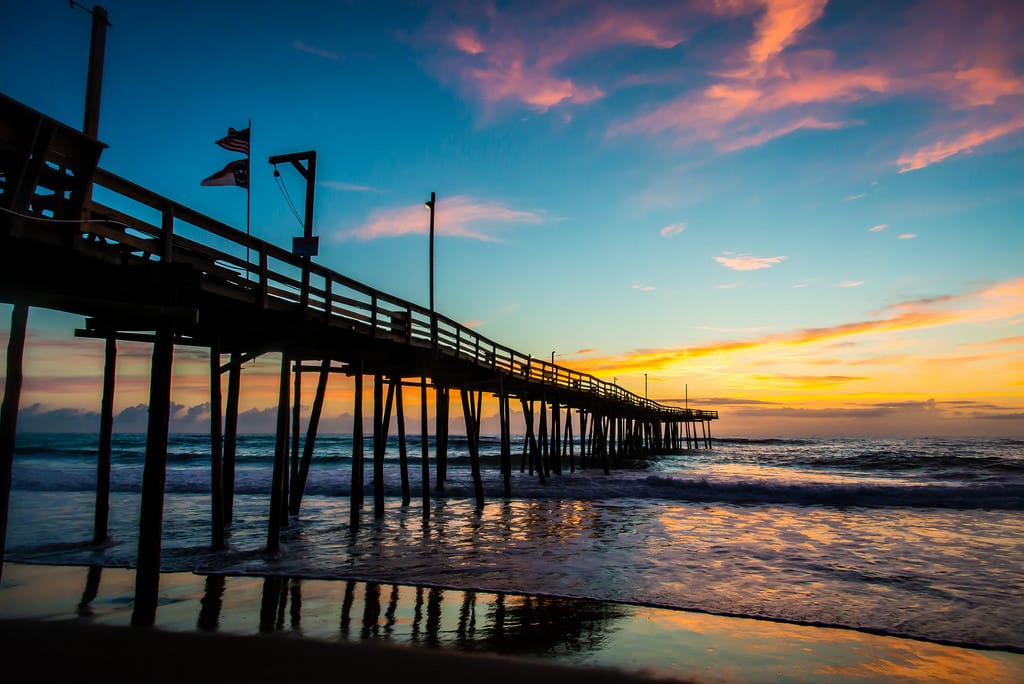 A traditional fishing pier with a ton to offer and recent upgrades to boot, Nags Head Pier includes a restaurant and a tiki bar. After a long day of fishing on the pier, the food revives your spirit with tasty flavor, and you'll bask in spectacular views all around. In addition, you have the unique offer at the restaurant called, "You Hook 'Em – We Cook 'Em". It's an experience we always recommend to the tourists who have never experienced pier fishing before. There's a full-service tackles shop on-site with gear to rent and knowledge to share. One-day, three-day eight-day and season passes are available.
Jennette's Pier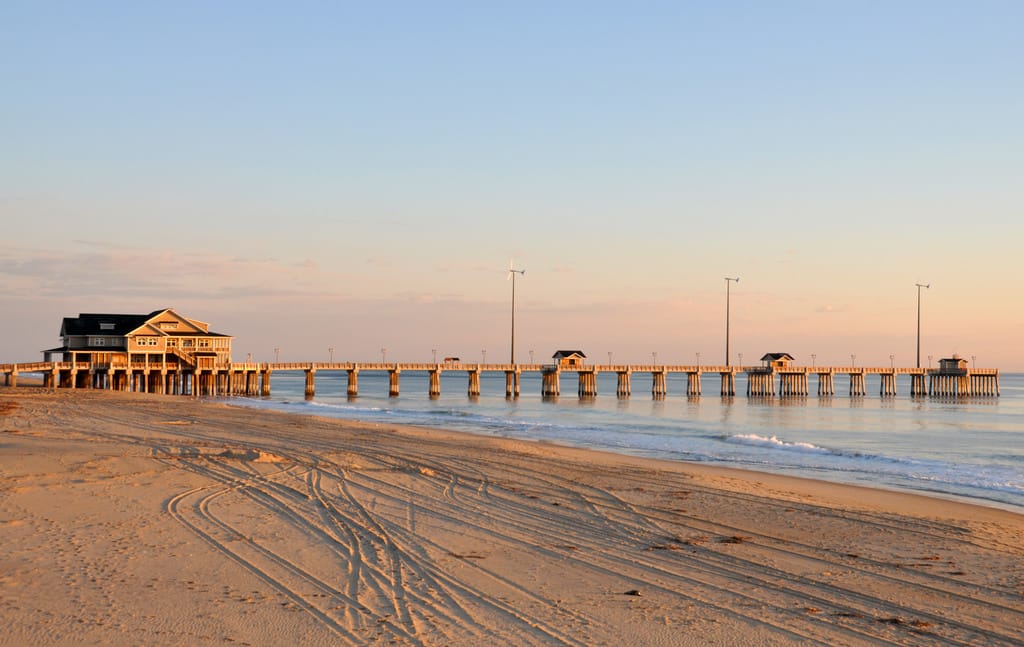 A solid and spectacular 1000-foot concrete structure, Jennette's Pier has some of the best and biggest fishing in all of Outer Banks. Because the pier stretches so far into the ocean, the fish might be in wild activity here while other parts of Outer Banks has yet to experience a tiny nibble. Because it's part of the North Carolina Aquarium system, you'll find a gift shop that offers unique treasures for everyone, as well as tackle, beach supplies, cold drinks, hot coffee and snacks..
Find The Perfect Outer Banks Fishing Pier For You
When it comes to finding the perfect Outer Banks fishing pier, looks can be deceiving. In fact, if it looks rickety and uninviting, you don't want to let that fool you. We have some of the best fishing here, and a choice of pier-side restaurants with the reputation for some of the best and freshest food in the Outer Banks region. Keep an ear out for live local music performances as well!
What Kind of Fish Can You Catch on the Outer Banks Piers
Outer Banks, North Carolina, has some of the best fishing around. In fact, you can catch a diverse species of fish that includes:
Spot
Cobia
Sea Mullet
Croaker
Flounder
Gray Trout
Speckled Trout
Pompano
Spanish Mackerel
Bluefish
Striped Bass
Red Drum
King Mackerel
With over 13 different fish species in the Outer Banks region, one of the most popular catches here is the spot. While they can be cranked in for the duration of the fishing season, they taste best from late summer to early fall. Spots have the characteristic of a mark near the top of the base of the pectoral fin. Another popular catch is the croaker. Fishermen have endearingly termed these fish the "hard head," and you can catch them throughout the fishing season. Because they tend to swim in schools, you can pull in a lot of them in a single day. The flounder also has a well-deserved reputation for being one of the best tasting food fishes. They will weigh anywhere from 1 to 3 pounds. The best time to catch a flounder will be between October and November.
Why Come to Outer Banks?
Outer Banks, North Carolina, has become well known for its reputation as a boon for outdoor activities. It's fun for the whole family because in between fishing on the pier, you can take the kids to collect seashells down by the seashore. One of the great things about Outer Banks is the fun-filled family atmosphere.
While here, we recommend staying in a condo rental instead of a hotel. With a vacation rental, you have everything needed to enjoy a cost-conscious meal at home. However, when abroad, we also recommend that you experience some of the local culture with a meal at the pier. It will be a tasty experience that you are sure to love. In the summer months, the bottlenose dolphins have been known to spend their summers in Outer Banks, providing a stellar show, and memories to last a lifetime.