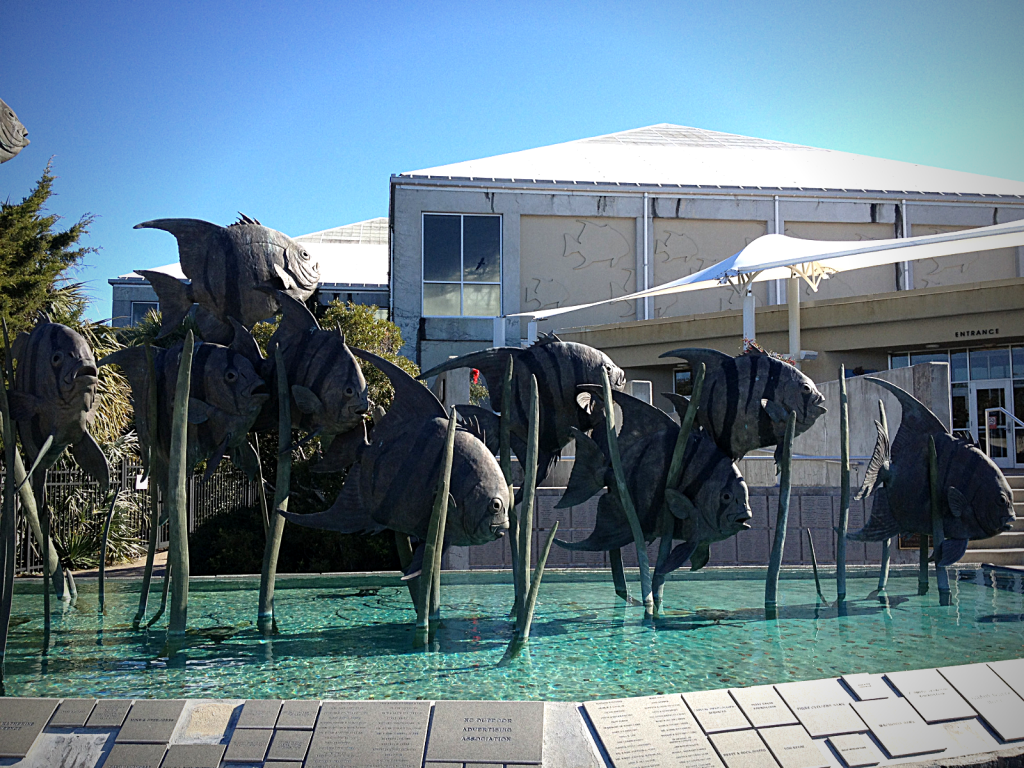 The North Carolina Aquarium on Roanoke Island is the perfect seaside attraction for families, groups, and couples. This state-of-the-art facility is one of four meticulously maintained aquariums throughout the state of North Carolina and specializes in showcasing the wonders of the waters of the Outer Banks.

Nestled in the heart of Manteo, this Outer Banks aquarium is truly a year-round destination. Many beach-goers enjoy popping by the aquarium on a rare, rainy afternoon, while others enjoy taking a break from the hot summer sun and cooling off with a few nautical friends.

If you're considering adding a trip to the North Carolina Roanoke Aquarium to your OBX bucket list, check out this quick guide that covers everything you need to know before you go!

The Basics — About The NC Aquarium at Roanoke Island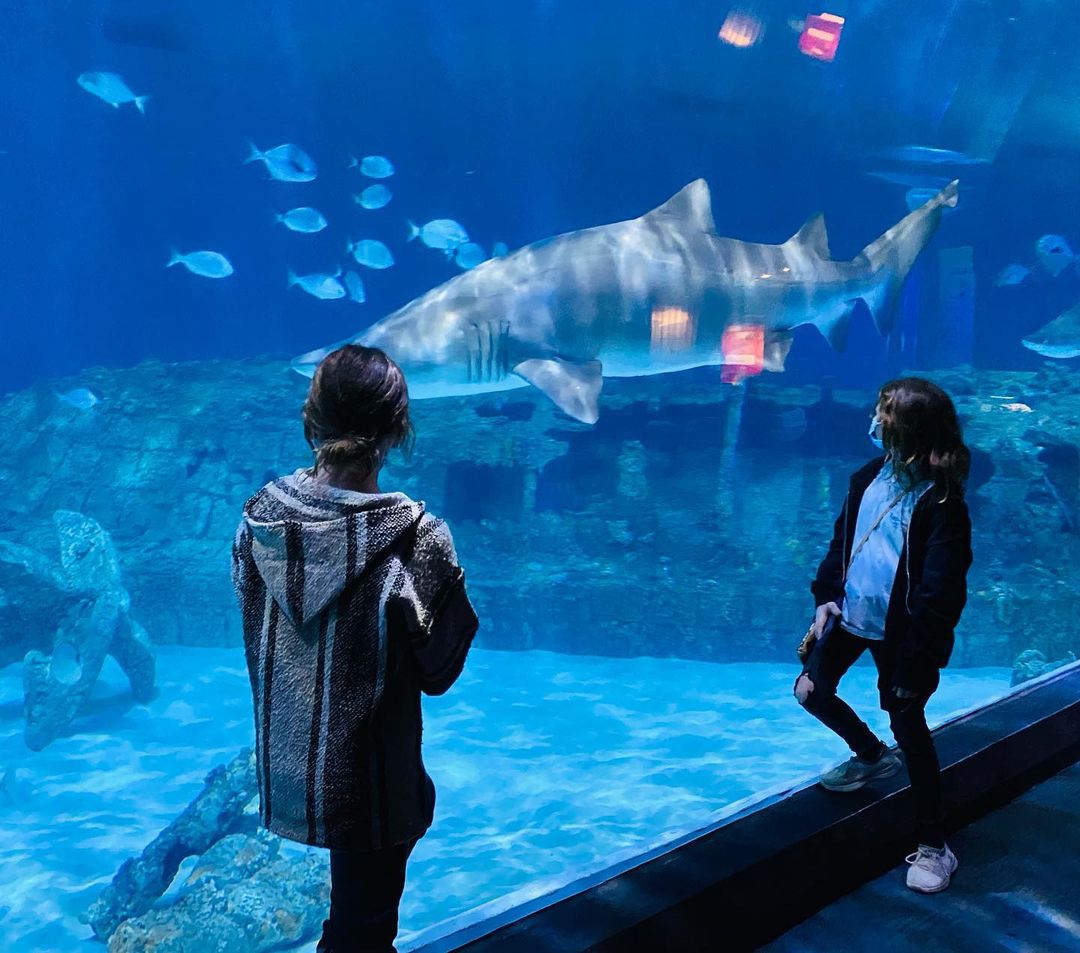 The North Carolina Aquarium on Roanoke Island enjoys a convenient location waterfront in downtown Manteo. The 68,000 square foot facility features more than ten unique and interactive exhibits that showcase marine life native to the North Carolina coastal region and a fun gift shop! The aquarium also advocates for and supports the local beach community through sea turtle rescue and rehabilitation efforts and hosts several exciting educational events throughout the year. Here are a few aquarium basics to help you plan your trip.

Address: 374 Airport Road, Manteo, NC 27954
Phone: (252) 475-2300
Hours: 9 a.m. – 5 p.m. daily; last ticket sold at 4:30 p.m.
Admission: The aquarium is quite affordable and offers a few discounts for special visitors.

Children (ages 3-12) – $10.95
Adults (ages 13-61) – $12.95
Seniors (ages 61+) – $11.95
Military – $11.95
Children ages 2 and under and NC Aquarium Society Members are free! You can also get a discounted ticket if you are a member of AZA (Association of Zoos and Aquariums) through their Reciprocal Admissions Program.

Free aquarium admission days: Martin Luther King, Jr. Day and Veterans Day.
Aquarium Exhibits & Popular Activities
The North Carolina Aquarium at Roanoke Island features more than ten unique and engaging exhibits to educate and entertain visitors. Here are a few of our favorite exhibits—including a brand-new feature for 2019:

For the Birds is NEW for 2019 and features a wide array of native bird species, like osprey, herons, woodpeckers, and many more
Seven Rivers features wild alligators, snakes, and amphibians that are indigenous to the Albemarle Sound that surrounds the west side of the Outer Banks
Wild Wetlands features furry friends that can be found in the OBX wetlands, like river otters, beavers, and turtles
Sea Turtle Assistance and Rehabilitation (STAR) Center highlights the importance of sea turtle conservation and educates visitors on current initiatives and beach best practices
Sea Treasures takes visitors through a sunken sea ship to find hidden treasures and learn about marine life that lives off the North Carolina coast.
Sea Senses allows visitors to get up close and personal with stingrays, starfish, and other invertebrates commonly found along the ocean floor. These interactive touch tanks are perfect for kids!
Delicate Drifters is a vibrant display of elegant, ethereal sea jellies.
Ironclad Sanctuary showcases the incredible history of the U.S.S. Monitor, which was the first American Civil War ironclad warship commissioned by the Union Navy.
Graveyard of the Atlantic Exhibit shows off some of the ocean's most beautiful and dangerous marine life in a stunning 285,000-gallon tank. This is the area's largest collection of sharks and it's easy to see why it's a visitor favorite.
Soundside Pier is an outdoor exhibit located along the waterfront portion of the museum; experience native marine life in their natural habitat.
Shark Dive Program is a limited time offer to explore these amazing sharks up close and personal. Dive in with a certified expert and see popular coastal sharks in their natural habitat.
—
Aquarium Events
The NC Aquarium at Roanoke Island proudly hosts several events each week. Some of these events are free while others can be enjoyed for a small fee. All events are conveniently hosted on-site at the Manteo location. Aquarium events vary each week, but here are a few of our favorites to give you an idea of what you can expect:

What's The Catch? — This outdoor event is designed to teach proper fishing techniques and etiquette. Attendees will learn how to assemble tackle, bait a hook, identify different fish species, and practice safe catch-and-release techniques. Try your luck at Atlantic fishing on the Soundside Pier.
Stand-Up Paddleboarding — Have you ever wanted to try paddleboarding? If so, the aquarium offers the perfect intro class to help you find your bearings on the open water. The Croatan Sound offers calm, relaxing waters, perfect for first timers and children. All equipment is provided for the lesson!
Shark Bites — Get a behind the scenes look of the aquarium's famous 285,000-gallon Graveyard of the Atlantic tank and experience a once-in-a-lifetime show: shark feeding! Event attendees will assist with one of the tank's weekly feedings and get an up-close look at the shark's feast. This event is a must for marine life enthusiasts!
In addition to these planned events that require reservations, the aquarium also hosts shorter free events during the day. A few popular programs include 'shipwreck stories', where an aquarium educator hosts a live question and answer session about sharks in the graveyard tank, and the 'animal feedings', where guests can watch aquarium staff feed the facility wildlife.

Remember, these are just a few of the many seasonal events hosted at the Roanoke aquarium. Be sure to check the website or call in advance for a full list of events.

—
Sea Turtle Preservation and Education
The recently expanded Sea Turtle Assistance and Rehabilitation (STAR) Center is a one-of-a-kind sea turtle recovery facility. This 3,000 square-foot care center specializes in the capture, care, and release of endangered sea turtles. Named the "operation sea turtle rescue team", the local team is dedicated to helping as many sea turtles as possible.

Currently, the STAR center can care for up to 25 sea turtles at once. Aquarium visitors can view the work at the facility and learn more about current rescues and initiatives during their visit. The work of the STAR Center is essential for the preservation of local sea turtles, which hold a special place in the heart of OBX visitors and local alike.

STAR is a program administered by the owner of the aquarium, the North Carolina Department of Natural and Cultural Resources.

—
North Carolina Aquarium at Roanoke FAQs
Do you have a specific question about visiting the aquarium? If so, check out these frequently asked questions and start planning your trip!

Where is the NC Aquarium at Roanoke Island located?
The aquarium is located soundfront in the heart of Manteo. The official aquarium address is: 374 Airport Road, Manteo, NC 27954
Is the NC Aquarium wheelchair accessible?
Yes! All aquarium entrances, exhibits, and exits are wheelchair accessible and ADA-friendly.
Is there free parking?
Yes, the aquarium does offer free parking for aquarium guests. Please note that the main lot fills early during peak season, but there is an overflow lot available for such occasions.
Can I bring food or drinks into the aquarium?
No, outside food/drinks are not allowed inside the aquarium.
Is there food available for purchase?
Yes! The Shipwreck Cafe is located on-site at the aquarium. This local restaurant features a variety of sandwiches, salads, and snacks with scenic views of the Croatian Sound.
What are the aquarium hours?
The North Carolina Aquarium at Roanoke is open 9 a.m. – 5 p.m. daily; the last ticket is sold at 4:30 p.m.
How much does it cost to visit the aquarium?
Admission to the aquarium ranges from $11 – $13; children under the age of two are free! The aquarium also offers free admission days on Martin Luther King, Jr. Day and Veterans Day.
How long does it take to visit the aquarium?
The average length of visit varies depending on your group size and how many events you attend. We find that the average small family spends about two hours in the aquarium.
Is the aquarium pet-friendly?
Outside pets are not permitted, though certified service animals are welcome.

—

Nearby Lodging & Condo Vacation Rentals
If you're seeking a vacation rental near the NC Aquarium at Roanoke—you're in luck! The aquarium is on a beautiful stretch of OBX near plenty of other attractions, dining and, of course, the beach.

Kill Devil Hills is situated just thirty minutes from the aquarium and is a very popular area for families and couples looking for a charming beach destination. In fact, it's our top recommendation for an Outer Banks area that's close to the aquarium and other family-friendly attractions and entertainment.

If you're unfamiliar, Kill Devil Hills is home to the Wright Brothers National Memorial, Jockey Ridge State Park, and the famous Avalon Fishing Pier. Other local draws include The Outer Banks Comedy Club, watersports and beach activities, and plenty of spots to enjoy fresh, local seafood. It's truly a beach destination that offers something for everyone!

Peruse our selection of Kill Devil Hills vacation rentals or contact us directly if you have any questions or need help booking your stay.
—

It's not hard to see why the North Carolina Aquarium at Roanoke Island is one of the top attractions in the Outer Banks! For even more fun, visit Jennette's Pier on the way back onto the OBX area for maximum oceanic learning & exploration.

Be sure to pencil in a visit to this family-friendly destination during your OBX getaway, and visit our Outer Banks Vacation Blog for more beach inspiration for your visit to Nags Head, Hatteras Island or any of our most popular beach destinations!