Off the shores of the Roanoke Sound is a hidden oasis often overlooked by Outer Banks travelers. Nestled between Kill Devil Hills and Nags Head, you'll find the secluded Nags Head Woods Preserve.
This preserve is home to one of the largest remaining East Coast maritime forests in the US. This natural sanctuary offers a diverse display of coastal ecosystems untouched by time. It provides the perfect tranquil excursion away from the bustling beaches of the OBX.
The perfect day trip from your vacation home rental starts with breakfast in Nags Head and continues into this spectacular nature preserve. If you're staying in the Outer Banks and looking for some outdoor adventure, you won't regret taking some time to explore the dynamic ecosystems that make up the Nags Head Woods Preserve.
Visiting Nags Head Woods Preserve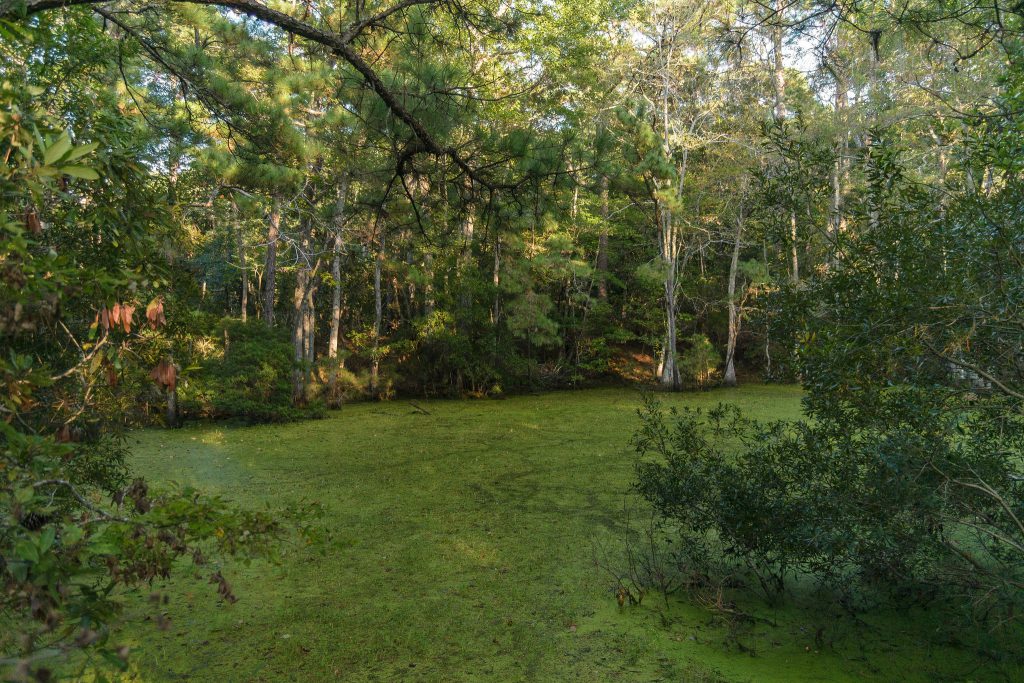 Address: 701 West Ocean Acres Drive, Kill Devil Hills, NC 27948.
Entrance: Free
Website: Nags Head Woods Preserve
Hours: Open daily, from dawn to dusk. The Nature Conservancy's outdoor information center is open Monday through Friday from 9 am to 5 pm.
At the visitors center, you can grab a trail map and get an overview of the eight miles of walking trails found on the preserve. You can also download a map on your cell phone for easy access.
Getting There
Heading north on US 158 from Kill Devil Hills, you will turn right onto Ocean Acres Drive. This will take you through a residential area, then down a road through the forest. You'll need to follow this road until you reach a small parking lot.
It's important to note that the only restrooms in the park are located at the trailhead.
What to Know Before You Go
Here are a few helpful items of note to prepare for your trip to Nags Head Woods Preserve.
Dog Friendly: Feel free to visit Nags Head Woods with your pup! Like many places in OBX, the preserve is pet friendly. Be sure they remain leashed and on trails from 4 pm to 8 pm only.
Fisherman Friendly: Both saltwater and freshwater fishing are allowed. You do need a valid fishing permit.
Fishing Limits: Freshwater ponds catch and release only. Saltwater season and size limits are expected to be upheld while fishing in the sound. If you plan on fishing, be sure to review these limits before your visit.
Pack for the Weather: Parts of the park can be very sunny. You'll want to bring sunscreen, a hat, and bug spray in the warmer months.
Bathrooms: Be sure to hit up the bathrooms before embarking on longer trails. There are no bathrooms beyond the Visitors Center.
Leave No Trace: Most importantly, please remember to leave no trace! The park is pristine due to visitors packing out everything they take in, including trash of all kinds!
History of Nags Head Woods Preserve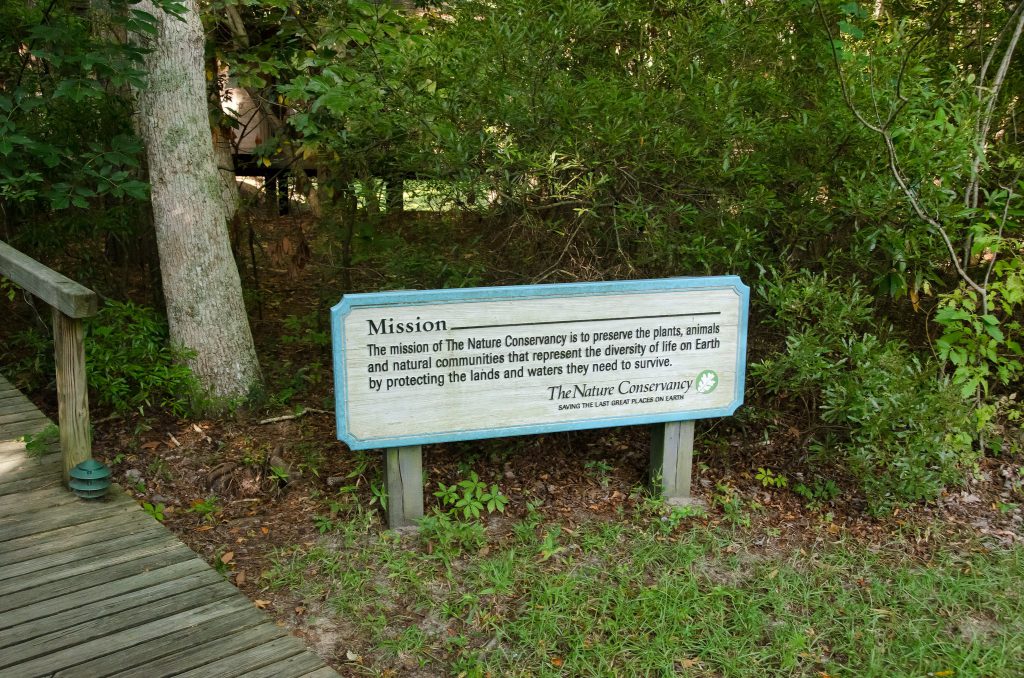 Once a coastal village home to a school, churches, and an entire community, Nags Head Woods was designated a National Natural Landmark in 1974. You can observe the ruins of this coastal community while walking the trails. As you walk to the sound, you'll find the remains of historic homesites and a small family cemetery.
In the 70s, rapid development threatened to replace this special ecosystem. The Nature Conservancy partnered with the towns of Kill Devil Hills and Nags Head and sectioned off over 1,000 acres to preserve and protect this area.
Pro Tip: An in-depth history of the area is available as an audio tour while hiking one of the trails.
Coastal Ecosystems on the Preserve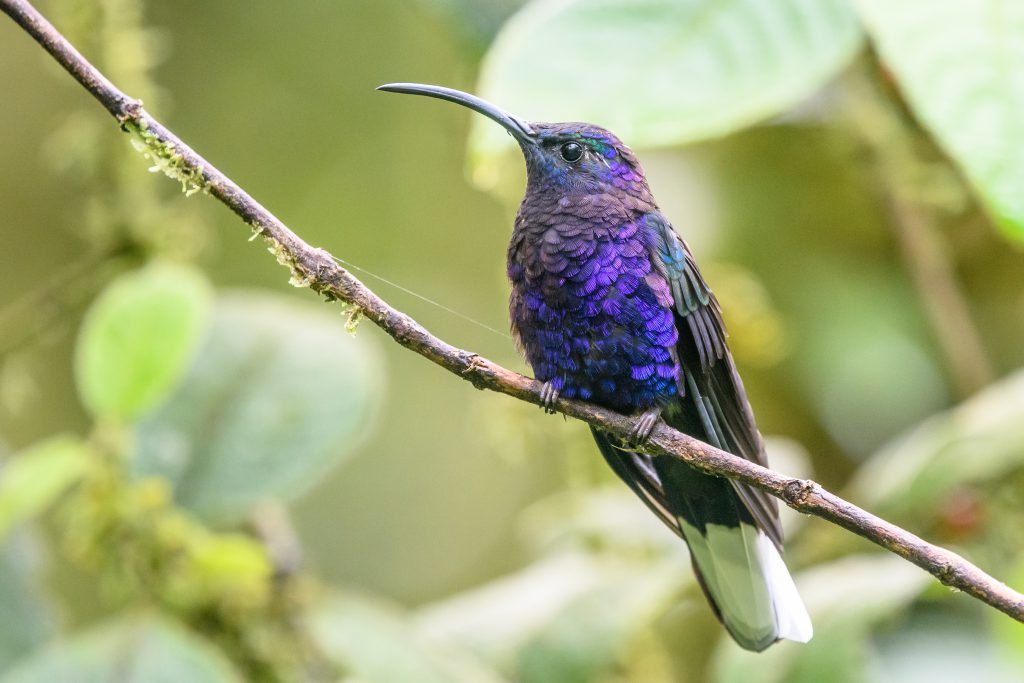 Nags Head Woods Preserve is home to a diverse array of plant and animal life. This is an especially great place for bird watching in the Outer Banks.

The preserve contains over 550 species of plants, 150 different species of birds, 50 species of amphibians and reptiles, and over 20 mammal species. Throughout the preserve, you'll encounter a variety of habitats and ecosystems, including deciduous forests, freshwater ponds, salt and freshwater marshes, and a secluded beach off the coast of the Atlantic shore.
The coastal deciduous forest is reminiscent of the Carolina Mountains with its abundant plant life and towering treetop canopy. Likewise, the wetlands are brimming with all sorts of life, and here you'll find an extensive sampling of coastal plant and animal life.

Don't forget to pack a beach bag so that after an afternoon of hiking, you can relax on the shoreline, listening to crashing waves and seagulls calling. You'll also find a great amount of sea life washed up along the shore, making for great marine flora and fauna discoveries.

Trails on the Preserve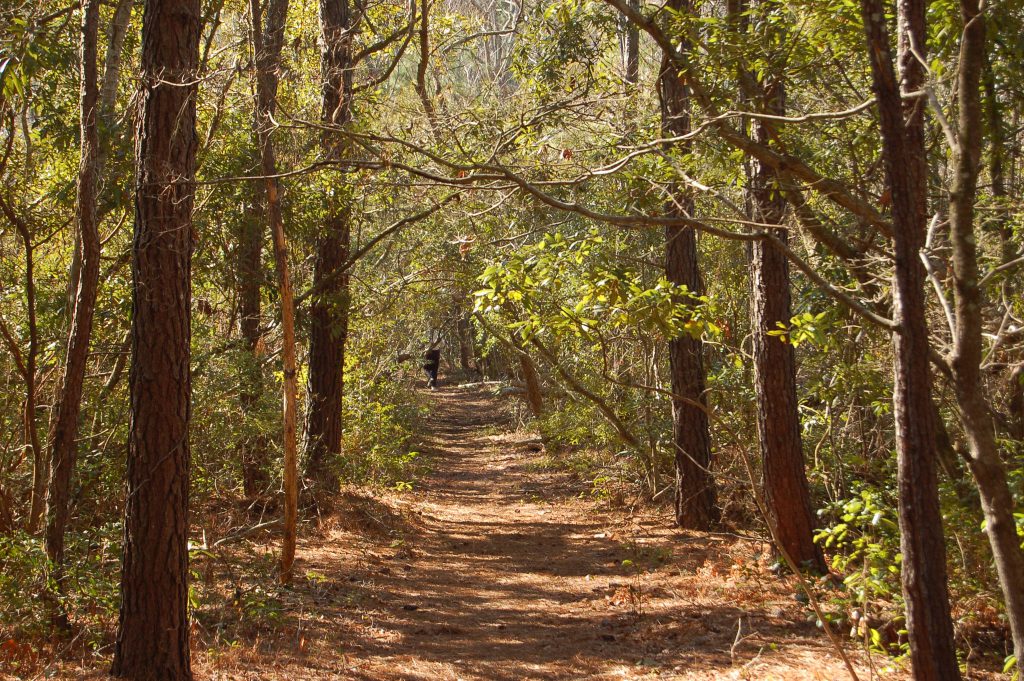 There are a variety of trails ranging in length and difficulty. You will find two of the trails located outside of the park grounds.
ADA Trail
Distance: 0.4 miles
Difficulty: Easy
To accommodate all guests, the preserve has an ADA (Americans with Disabilities Act) Trail that provides open access for foot traffic, wheelchairs, scooters, and strollers. A concrete and wooden boardwalk covers the trail itself.
The ADA Trail covers a third of a mile, circling around a pond and a maritime forest. You'll see a beautiful butterfly garden and get a view of the brackish marsh. If you are extra quiet, you might glimpse some of the native inhabitants.
Center Trail
Distance: 0.25 miles
Difficulty: Easy
Center Trail is another short trail, ideal for those looking for a more leisurely hike. From the administrative building, you can access the trail easily. This quarter-mile loop is a quick hike through the forest.
You'll cross two wooden bridges and see a bordering pond. Be sure to listen for the chorus of frogs that plays on repeat, and keep an eye out for turtles sunning on nearby logs.
Sweetgum Swamp Trail
Distance: 2.25 miles
Difficulty: Moderate
If you're looking for a longer hike, you can continue beyond Center Trail onto Sweetgum Swamp Trail.
This 2.25-mile trail is more strenuous. You'll find yourself hiking up steep dunes and going through the thicker brush in areas. However, a close look at the diverse range of plant and animal species along the way is plenty of rewards.
Blueberry Ridge Trail
Distance: 1.8 miles
Difficulty: Moderate
Those seeking even more of a challenge will enjoy the Blueberry Ridge Trail. This trail is 1.8 miles extension of the Sweetgum Swamp trail for a cumulative distance of 3.75 miles. The trail winds up steep dune ridges, winding past a pond and other scenic viewpoints.
Discovery Trail
Distance: 0.4 miles
Difficulty: Moderate
The Discovery Trail is short on length but not on scenery. You'll travel through the forest and over two picturesque bridges, past some ponds, and up a ridge. You can also access the Roanoke Trail from this trail through an extension.
Roanoke Trail
Distance: 0.5 miles
Difficulty: Easy
The Roanoke Trail is perhaps the most popular trail as it leads to the Roanoke Sound. Before arriving at a secluded beach, you'll pass through the forest and salt marsh. This trail holds a lot of history and is a great opportunity to take advantage of the preserve's audio tour.
Nags Head Town Trail
Distance: 1.5 miles
Difficulty: Easy
The limited parking at the entrance to the preserve can sometimes be a problem. However, this is one of two notable trails that begin in areas outside the park. This trail is accessed just a six-minute drive away at Nags Head Town Park.
The Nags Head Town Trail crosses several sand dunes and ends on the shores of the Roanoke Sound.
Pro Tip: Be sure to observe parking regulations in the area before leaving your vehicle.
YMCA Trail
Distance: 0.3 miles
Difficulty: Easy
The YMCA Trail is nearby the Nags Head Town Trail. This short trail begins at the Outer Banks Family YMCA and connects to the Nags Head Trail, taking you past the Roanoke Sound. Bring your crab pot and fishing pole, and you'll be set for the day!
Experience Nags Head Wood Preserve
When you want to spend a day appreciating the natural beauty of the Outer Banks, look no further than Nags Head Woods Preserve. It's a short drive from your First Flight vacation rental to this quiet coastal oasis brimming with the history of native Outer Banks life.