Wild horses, lighthouses, nature preserves, historic mansions — it's all waiting during a visit to Corolla, North Carolina.
This charming village at the northern end of the Outer Banks is one of the best spots to connect with nature, from birding at a national wildlife refuge to kayaking in the Currituck Sound to bouncing around on sand dunes in a four-wheel drive.
If you're looking for the best things to do in Corolla, NC, on a day trip from your Outer Banks vacation rental, we've rounded up all the museums, trails, beaches, and restaurants you don't want to miss while you're in town.
Visit Historic Corolla Park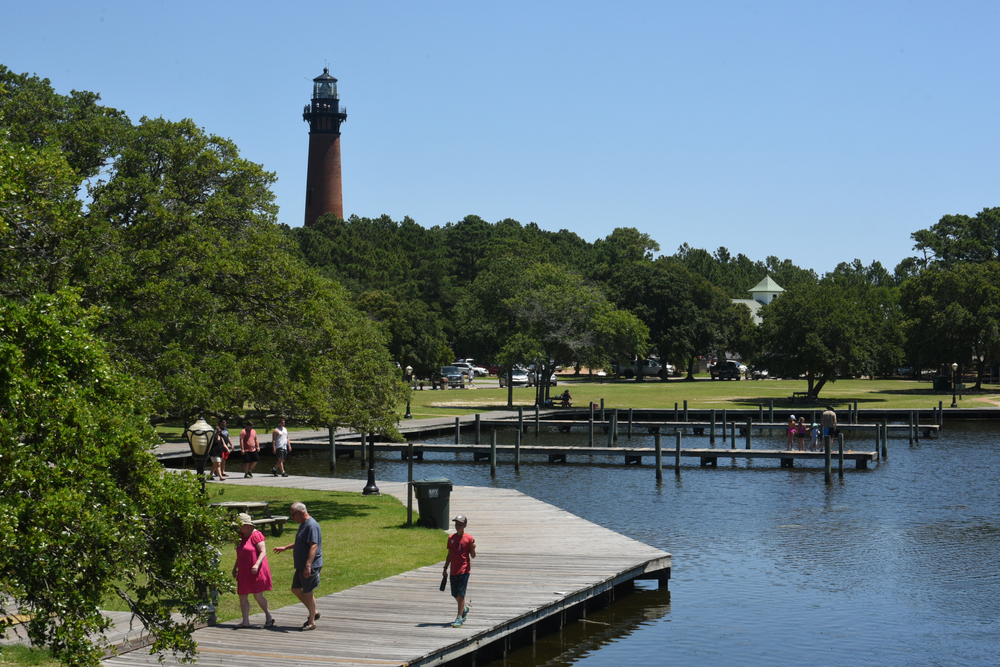 Historic Corolla Park is one of the best places to go in the town and is full of fun attractions that can easily fill up a whole day.
Spread across 39 acres on the sound side of the island; the park is home to a handful of museums and historic sites, plus lots of green space and waterfront for outdoor activities like hiking, biking, picnicking, and fishing.
While it's free to visit Historic Corolla Park, some of the attractions listed below require a paid ticket.
Currituck Beach Lighthouse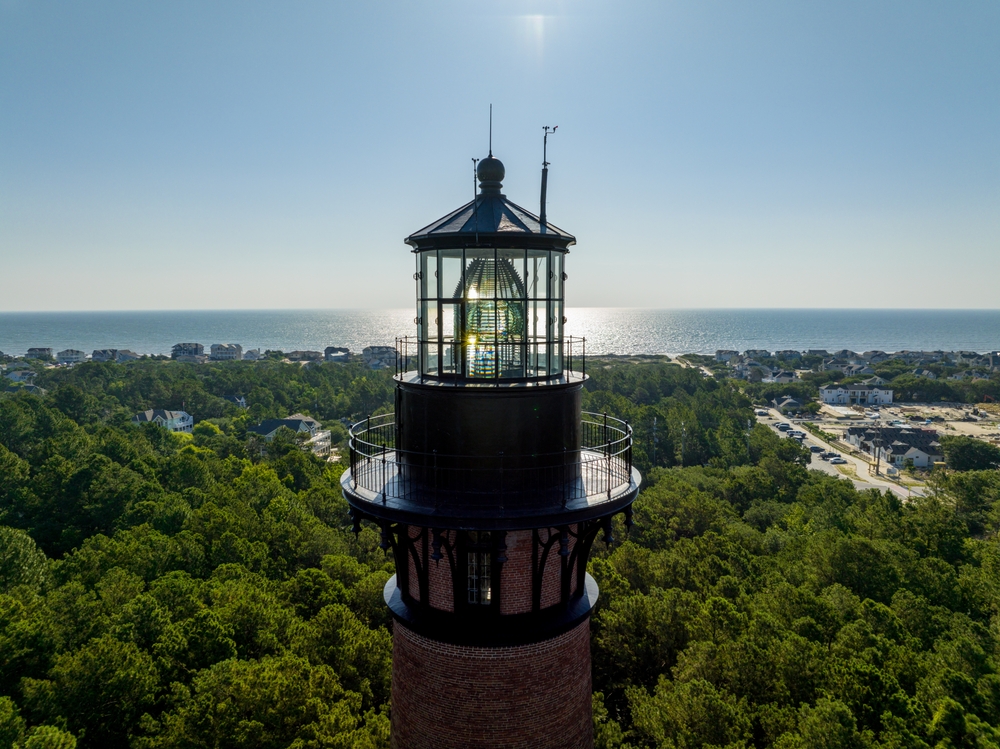 When you visit Historic Corolla Park and Village, you must stop and see the Currituck Beach Lighthouse. The red-brick tower is over 160 feet tall and dates to 1875.
It still has an original Fresnel lens that can be seen flashing from dusk to dawn up to 18 nautical miles away. Visitors can climb 220 steps in the tower to reach an upper deck with panoramic views of Whale Head Bay, the Outer Banks, and the Atlantic Ocean.
Unlike most lighthouses along the coast of North Carolina, this one was never painted so that you can see the original brickwork up close. There is also a gift shop onsite with lighthouse souvenirs and museum exhibits on the lower landings as you climb the tower.
If it's closed, or you don't want to climb to the top, you can still admire the Currituck Beach Lighthouse from the outside at Corolla Park.
The lighthouse is open seasonally from mid-March to December
Hours are 9 AM and 5 PM
Kids aged three and under are free
Whalehead Club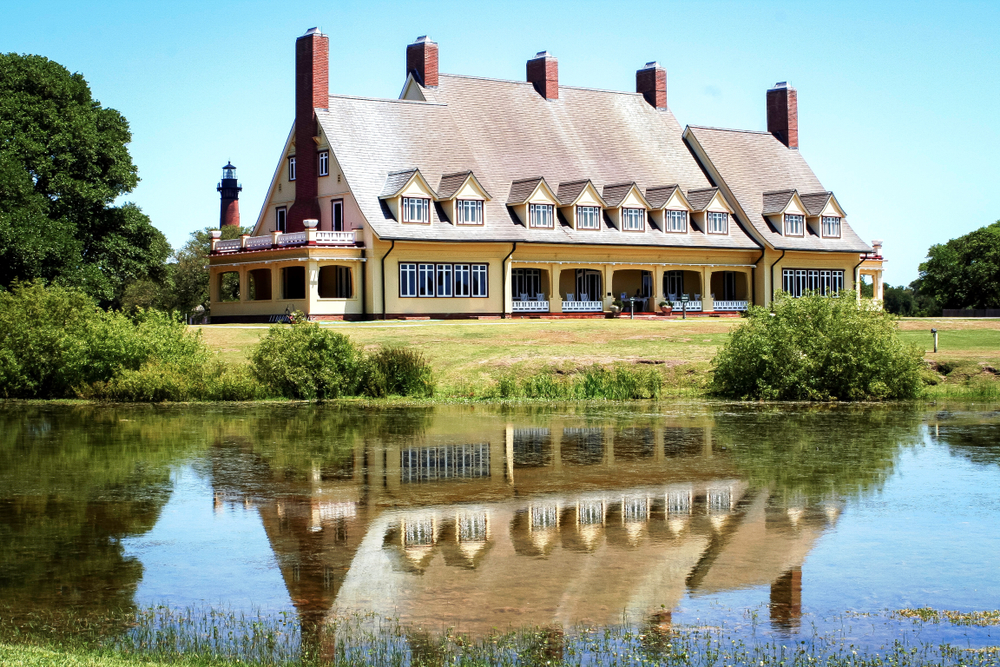 Listed on the National Register of Historic Places, the Whalehead Club at Historic Corolla Park is an Art Nouveau mansion from the 1920s that now offers tours.
Built by the wealthy Knight family a century ago, the yellow-painted building was originally a winter hunting retreat, constructed mostly for Mrs. Knight, who couldn't join the male-only clubs then.
The 21,000-square-foot mansion was restored in 1992 to highlight original features like the copper roof and mahogany wood doors.
Known as the "mansion by the sea," you'll find period furniture and decor inside, including a vintage Steinway piano, sconces made of Tiffany glass, corduroy-papered walls, and an Art Nouveau-style clock.
Whalehead is open Monday through Friday.
Hours are 10 AM to 4 PM.
Check the website for pricing.
Specialty Tours include the "Whalehead Christmas Candlelight Tour" and the "Summer Legends, Lore, and Ghost Tour," highlighting the mansion's haunted happenings.
Currituck Maritime Museum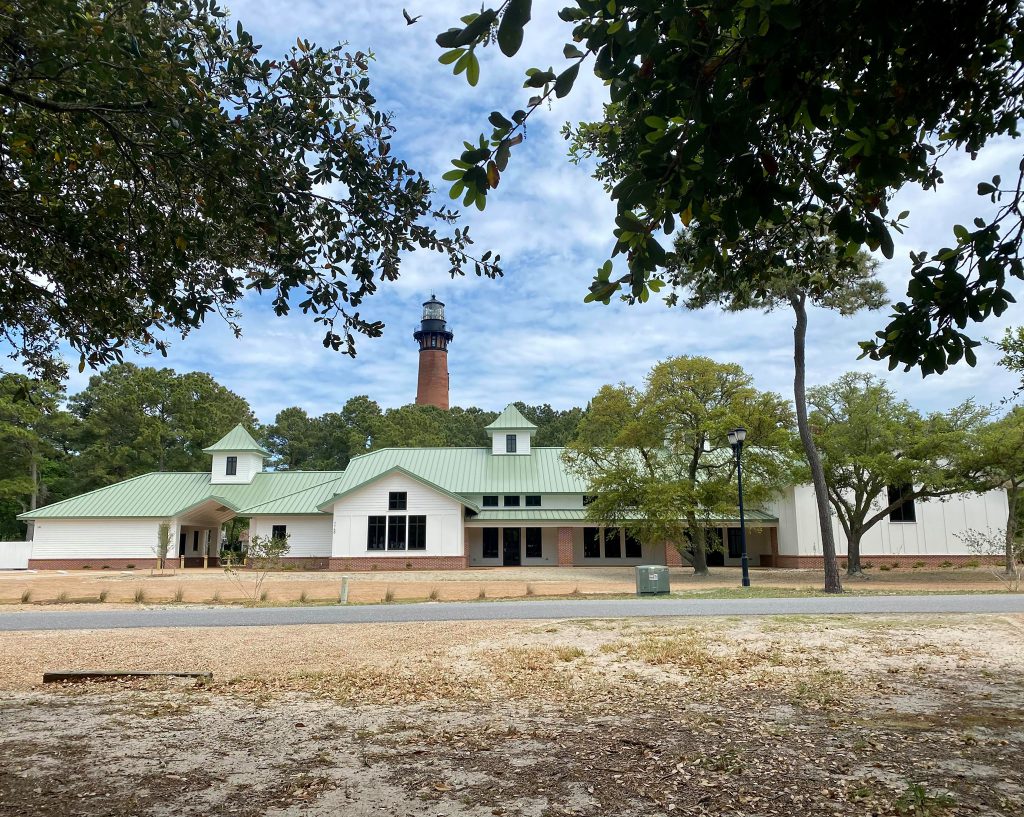 Boats, boats, and boats are the theme of the Currituck Maritime Museum, where displays of historic vessels share the story of how water shaped the coastal heritage in the area.
Between all the boats, photos, videos, and hands-on exhibits show more about the local lighthouses, boat building, fishing, and more.
Located near the Currituck Beach Lighthouse in Historic Corolla Park, the museum is a must-stop attraction for maritime aficionados and families.
The museum is open Monday through Friday.
Hours are 10 AM to 4 PM.
Admission is free.
Outer Banks Center for Wildlife Education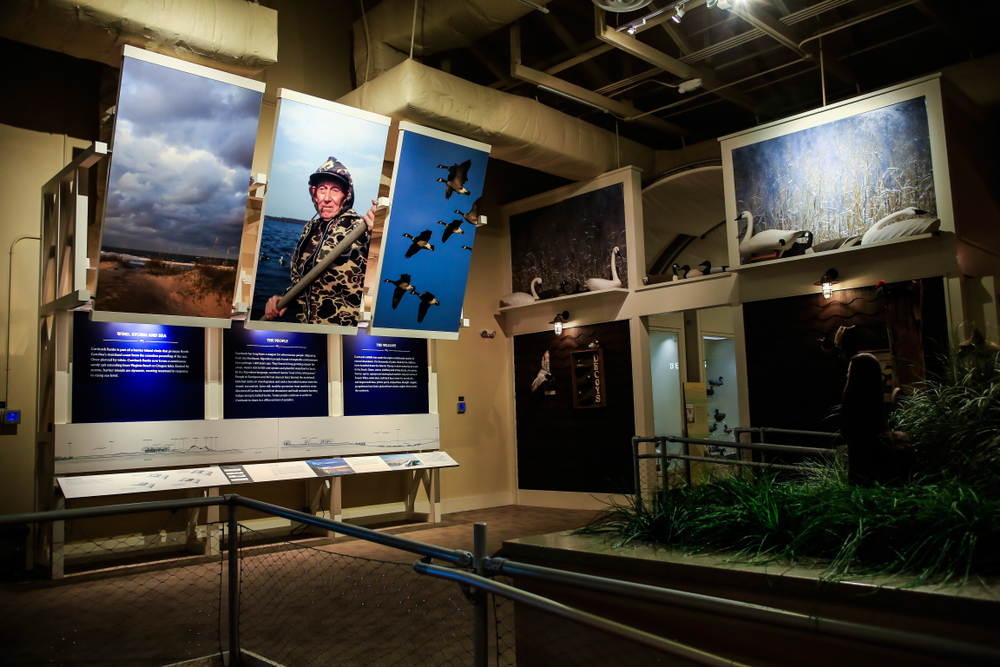 You can learn all about the Currituck Sound landscape at the Outer Banks Center for Wildlife Education at Historic Corolla Park. A large exhibit hall is packed with displays like an 8,000-gallon aquarium full of fish, a life-sized duck blind like what local hunters use, and dozens of different waterfowl decoys.
The North Carolina Wildlife Resources Commission oversees the center and runs special education programs throughout the year.
The facility is open Monday through Saturday.
Hours are 9 AM to 4:30 PM.
Admission is free.
Hike at Currituck Banks Reserve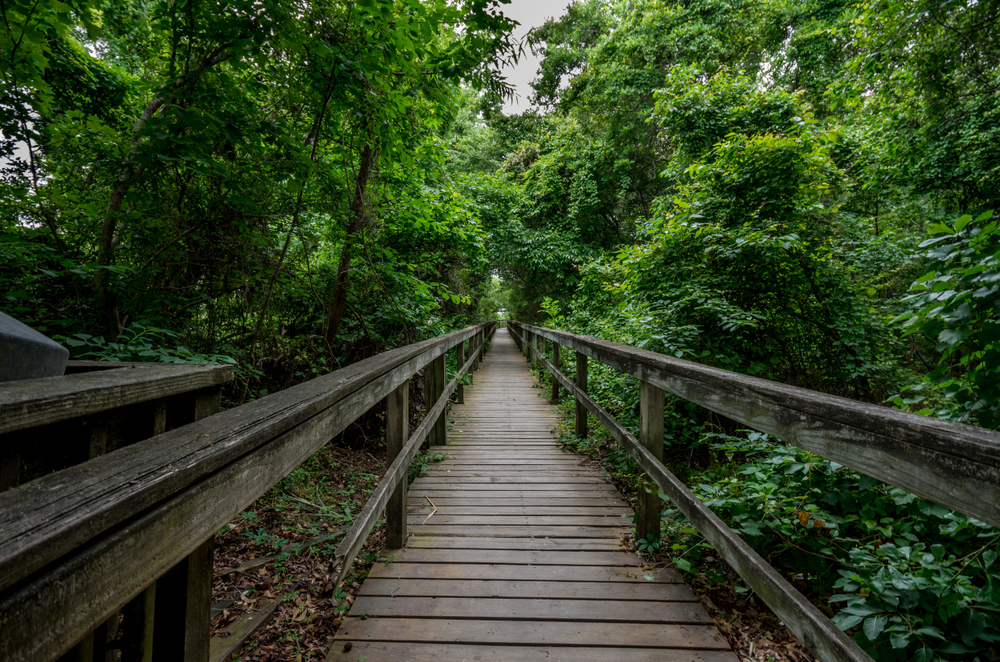 Looking for the best spot to spend some time in nature in Corolla or go bird watching? Head to the northern end of town for the Currituck Banks Reserve.
The parklands wrap in 965 acres of tidal flats, beachfront sand dunes, freshwater marshes, and maritime forests, with the Currituck Sound on one side and the Atlantic Ocean on the other.
Hikers of any age or experience level can head straight for the boardwalk trail, a 0.3-mile-long accessible route that winds through the marshy coastal forests and ends at a view of the sound.
For a slightly more challenging trek, you can divert off the main boardwalk to the Maritime Forest Trail, a 1.5-mile roundtrip primitive path that leads to a different overlook of the Currituck Sound.
Go Birding at Currituck National Wildlife Refuge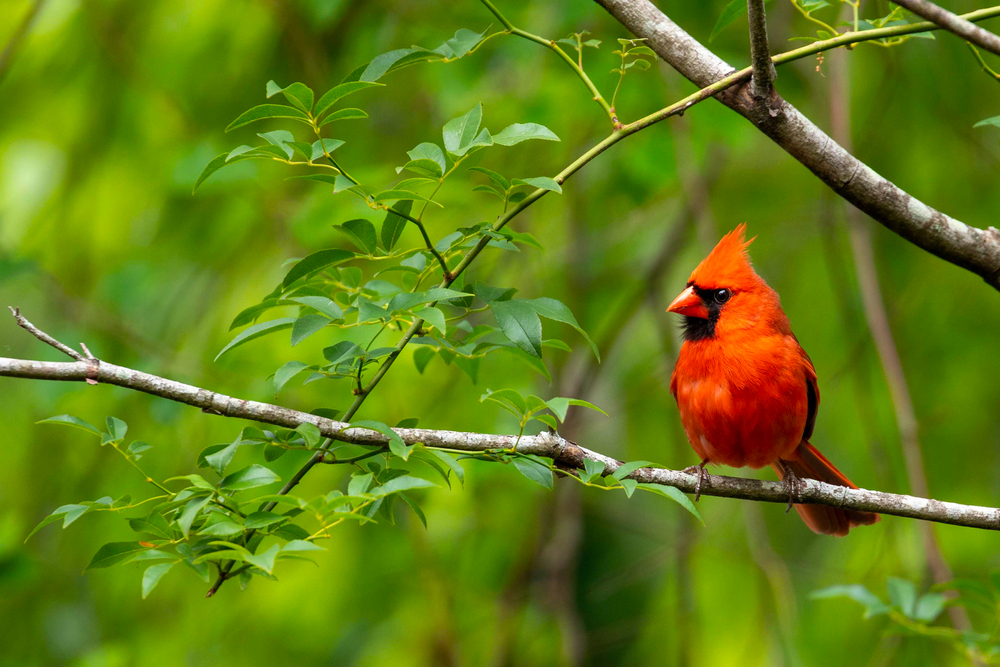 Currituck National Wildlife Refuge is a remote and rustic spot to connect with nature, covering 4,570 acres of wetlands and beaches at the north end of the Outer Banks.
The park was established to protect the ecosystem of the barrier islands, so there are no paved roads, designated nature trails, or other tourist amenities.
Independent adventurers, photographers, and birders come here to connect with nature more authentically. You may spot anything from nesting sea turtles to migrating birds to wild stallions.
To visit, you'll need a four-wheel drive vehicle to cruise onto the beach at the end of the road in Corolla. The first of six park units is less than a mile past where the pavement ends.
Take a Wild Horse Tour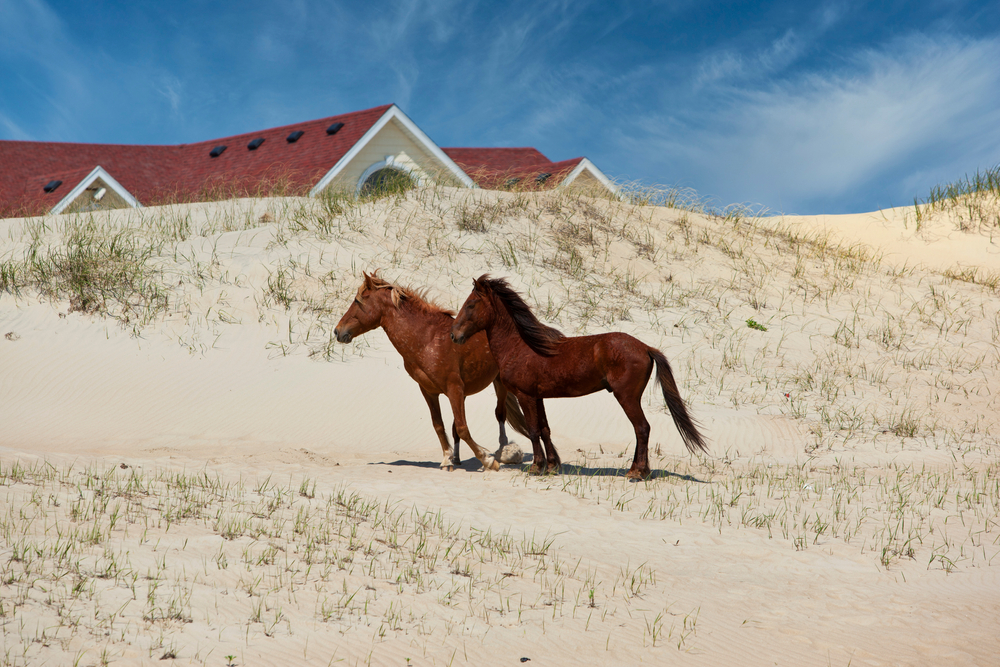 If you've ever dreamed of seeing the wild Spanish mustangs of the North Carolina Outer Banks, Corolla is the spot to do it!
The horses were brought to this area by Spanish explorers in the 1500s, and their descendants still roam free at the northern tip of the OBX.
Since you'll need a four-wheel drive to get to the spots where they typically hang out, several local companies run safari-style wild horse tours that take you to the best spots. Along the way, guides will spill tales of the local history and pirate lore as you keep your eyes peeled for the majestic stallions.
Whether you go horse spotting on your own or with a guide, remember to keep a safe distance from the wild animals.
Some of the local vendors that run these outings are:
Go Shopping in Corolla Village
While most of the things to do in Corolla involve spending time outdoors, there are a few shops around town you can pop into when you're ready to take a break from the sun.
Since Corolla is more of a beach village than a built-up town, there isn't a large downtown area. The closest thing to a central business district you'll find is Monterey Plaza and Timbuck II Shopping Village, which sit across from each other on Route 12 at Albacore Street.
Between the pair of plazas are a few gift shops, watersports rental outfitters, beach stores, and restaurants. There's also a grocery store for grabbing picnic supplies before a day on the sand.
Another small shopping center is at the Corolla Light Town Center near Historic Corolla Park. This one mostly has beach and surf shops and a few restaurants.
Bibliophiles should definitely make a point to browse the selection at The Island Bookstore, just north of Historic Corolla Park on Corolla Village Road. The small, independent bookshop covers various topics and hosts authors for signings during the summer season.
Drive on the Beach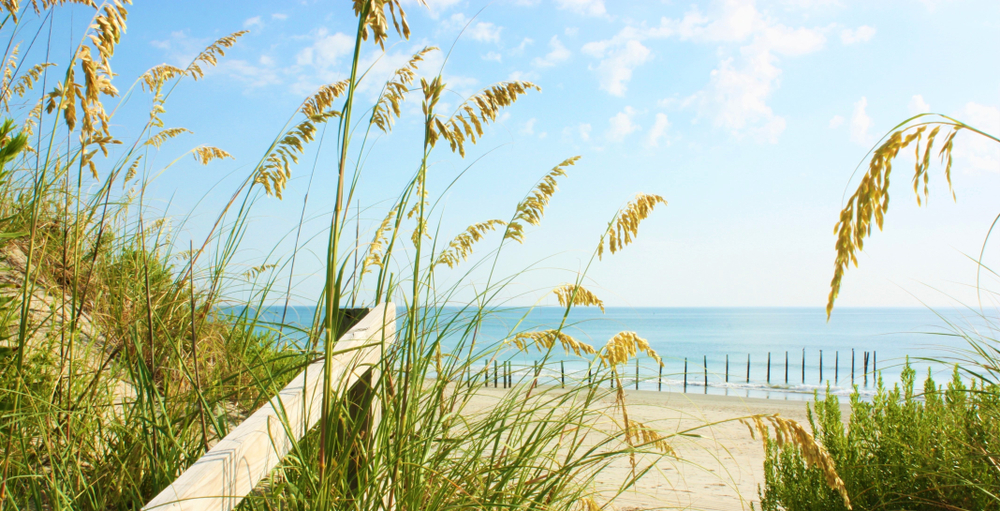 The drive along the Outer Banks is famous for its miles of sandy scenery. Corolla has some of the best beaches in the Outer Banks, with more than 20 miles of sandy shoreline fronting the Atlantic all the way down to Ocracoke. Since it's at the northern end of the OBX and neighbors a nature preserve, Corolla beaches tend to have a laid-back vibe.
There are several public beach access points up and down Lighthouse Drive, or you can head to the end of Route 12 for a different kind of beach experience — off-road driving on the sand. Carova Beach is a great option that is open for beach driving year-round.
Some 12 miles of shoreline are open for 4WD vehicles to explore north of town, where the pavement ends. This part of the coast backs up to the wilderness, where wild horses run around and hang out on the sandy banks.
There are plenty of activities to take advantage of along the way. Rentals are available for jet skis, kayaks, and parasailing.
Kayak at the Pine Island Audubon Sanctuary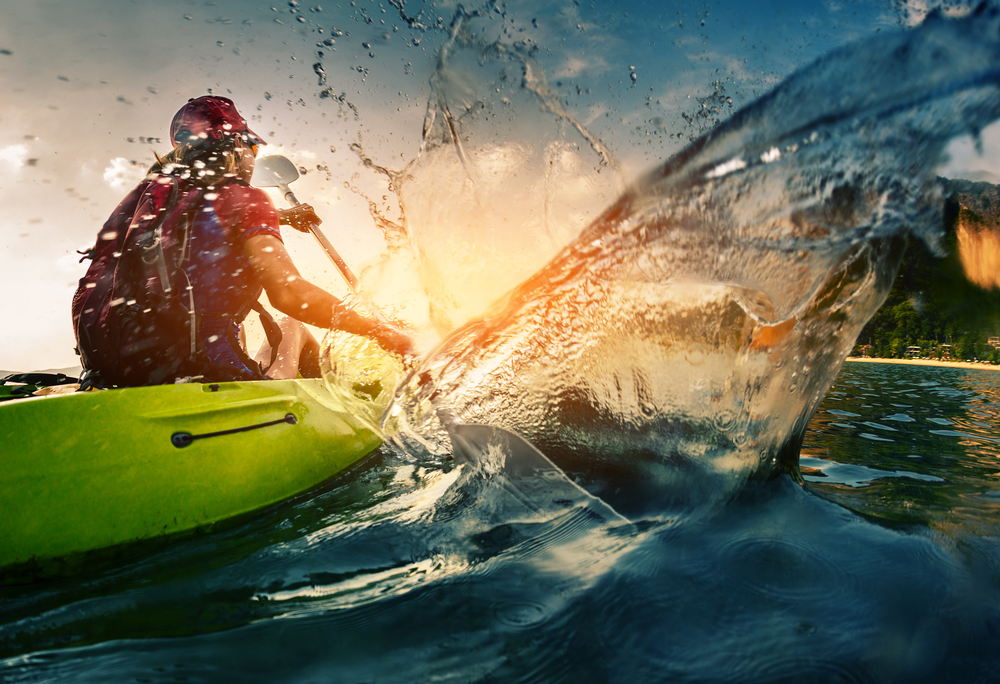 The Outer Banks are known for their excellent kayaking spots. On the south end of Corolla, the Pine Island Audubon Sanctuary sits on 2,600 acres of sound side marshes, beaches, and waterways, where wildlife and birds gather in a development-free area.
The campus surrounds a hunt club built in 1913 that now hosts conservation and education groups who come here to study and admire the birdlife.
On a day trip to Corolla, you can visit the sanctuary to hike a 2.5-mile trail with nature markers or sign up for guided kayak tours around the islands of the Currituck Sound. The outings run through spring and summer.
Dine Local in Corolla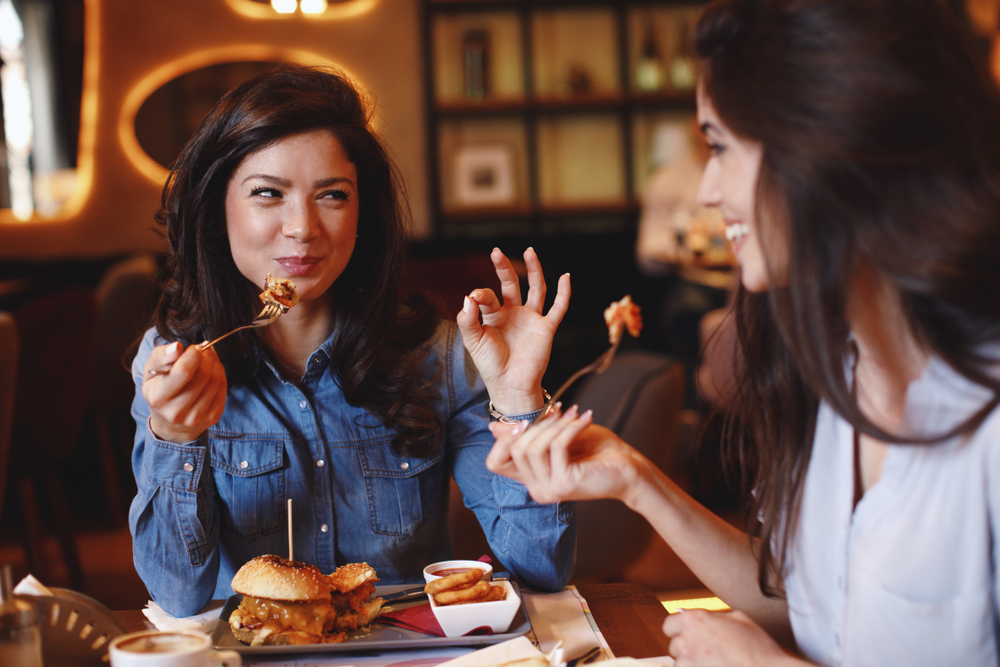 Even if you're visiting Corolla for outdoor activities and parks, make sure you stick around to try out a local cafe for lunch or dinner.
You'll find a few popular spots near Historic Corolla Park and the lighthouse, including Corolla Village Barbecue for carb-loaded Southern plates, Corolla Pizza and Deli for to-go pies and subs, or the Juice Jar for refreshing smoothies and Acai bowls.
Uncle Ike's Sandbar and Grill is another fun spot in the area for casual seafood, steaks, and live music at night. A little further south in town, the Urban Kitchen serves an American farm-to-table menu, the Chicken Coop Country Diner offers homestyle fried favorites, and Mama Easley's dishes up seafood baskets and chowders on an open-air deck.
If you're into craft beers, you also don't want to miss Off the Wall Tap House, which has a DIY beer wall where you can serve yourself over 20 different craft beers.
Climb and Zip at Corolla Adventure Park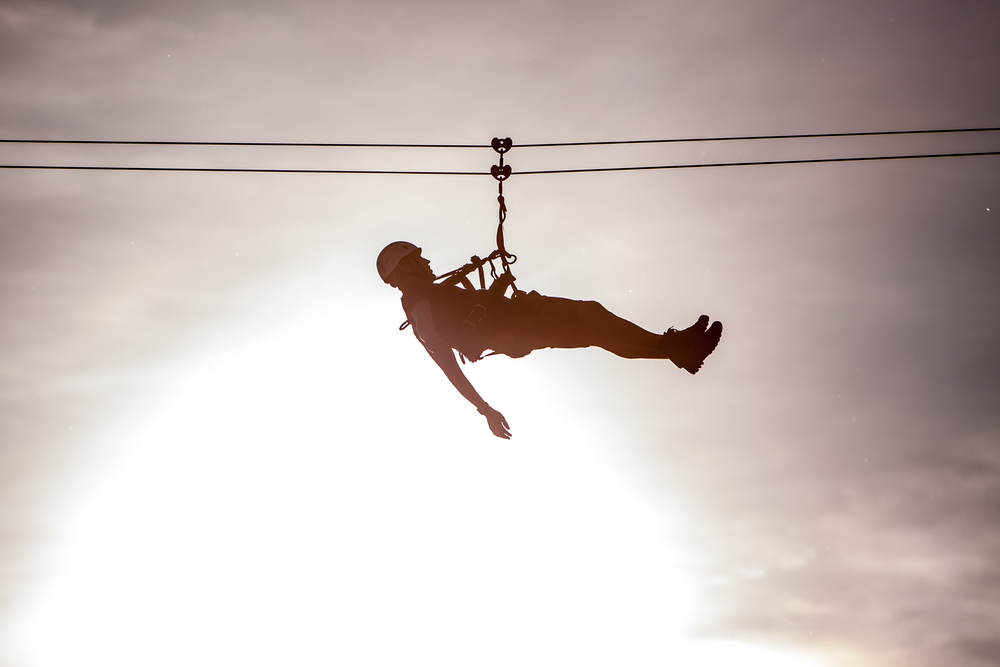 Kids of all ages will love the massive jungle gym that is Corolla Adventure Park.
The course has 11 different circuits on multiple levels, eight zip lines, and over 60 obstacles. On the high-flying course, you'll cross wobbly wooden planks, hang from "monkey bar" rings, and balance on swaying bridges.
You must be at least 40 inches tall to try out the lower level with a helper or 4 feet tall to test the full four levels. You can book reservations online for the climbing experience or recreational axe throwing.
Corolla Is The Perfect All-Around Getaway
Corolla makes the perfect day trip in the northern Outer Banks of North Carolina since there is so much to do in the oceanfront village and the surrounding nature preserves. Whether you're into birding, hiking, parasailing, or stand-up paddle boarding, you'll find many fun activities in Corolla.
First Flight Rentals makes finding the perfect Outer Banks vacation rental easy!