The windswept beaches along the Outer Banks of North Carolina may be the region's foremost attraction, but the temperate climate, varying terrain, and close proximity to fabulous vacation rentals also makes it an ideal golf getaway at any time of year. Whether you are looking to test your skills with a challenging course or simply to see beautiful sights while teeing off with friends and family, you are sure to find one or more Outer Banks golf courses that suit your fancy. These are some of the most popular spots for hitting the links on your next Outer Banks vacation.
Seascape Golf Links

Seascape is just one block off Kitty Hawk Beach, so throughout your time on the greens you can smell the salty sea air, and any non-golfers in your crew go their own way for an afternoon by the water. The lush maritime forest and sand dunes give this course its name. There are several elevation changes throughout the holes, and some of the holes offer ocean views while you play. It is considered a friendly, casual course, suitable for any skill level with plenty of challenges and opportunities. For newcomers, there are lessons and advice which even a more experienced golfer might benefit from.
The Carolina Club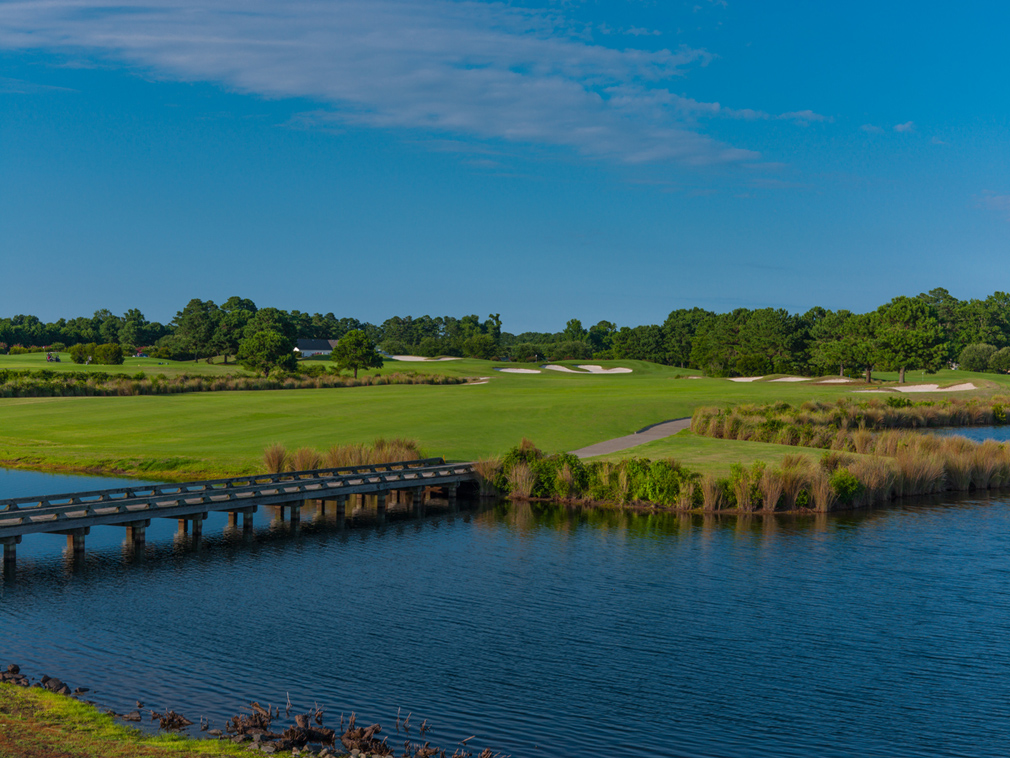 The Carolina Club is a local favorite since 1998, and a sister course to The Pointe. It's a 7,000 yard, par 72 championship golf course with five sets of tees to give all skill levels something to shoot for. The course's landscape is rich with bentgrass greens and a par 3 island green hosting breathtaking watery views. The Carolina Club's fully stocked pro shop offers nearly everything a golfer needs for a successful game, as well as a few souvenirs! Instruction available from Cory Schneider, 2019 PGA Championship Participant and 2020 Carolina's PGA Section Player of the Year.
The Pointe Golf Club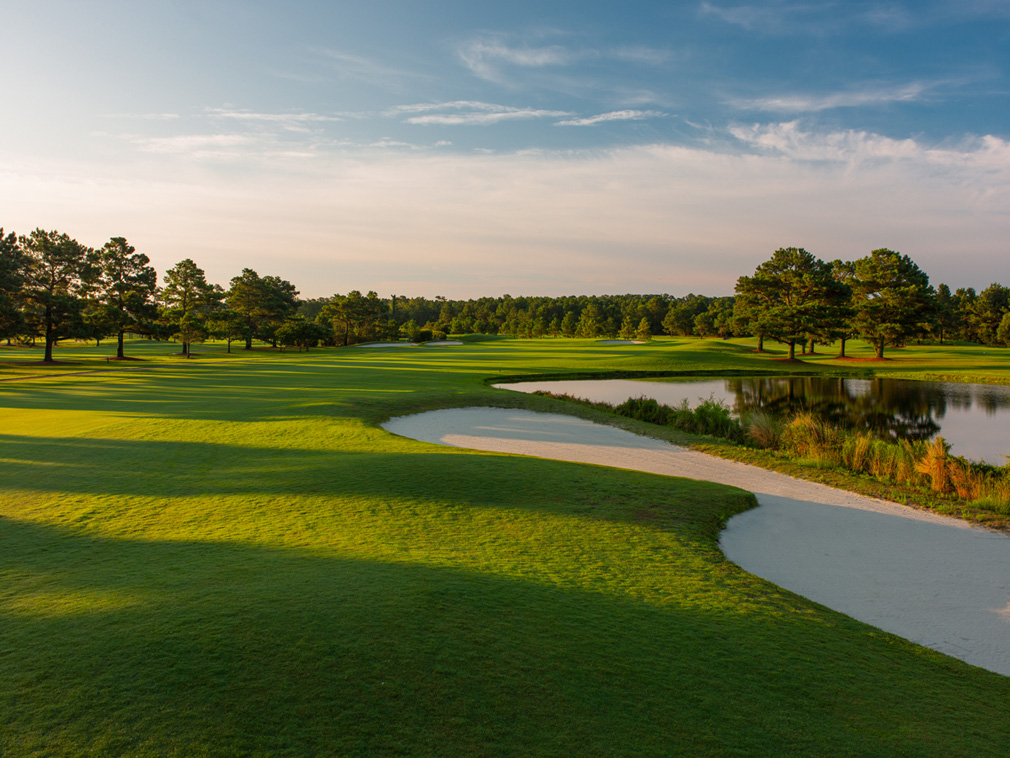 Like its sister club, The Carolina, The Pointe is designed to give a stimulating round of golf to anyone from a pro to a beginner. Golfadvisor ranks The Pointe 4 stars, and once you try the beautiful course for yourself, you will understand why. Its smooth putting greens are surrounded by stands of green pine and myrtle trees among bentgrass greens and bermuda fairways. The Pointe is also a great course to choose for practice and warm-ups. It has an extensive practice facility with one of the area's top driving ranges, a practice chipping green bunker, and a practice putting green. If there's any skill you feel you want to hone up on during your stay in the Outer Banks, the practice ranges are well worth a trip across the bridge.
Duck Woods Golf and Country Club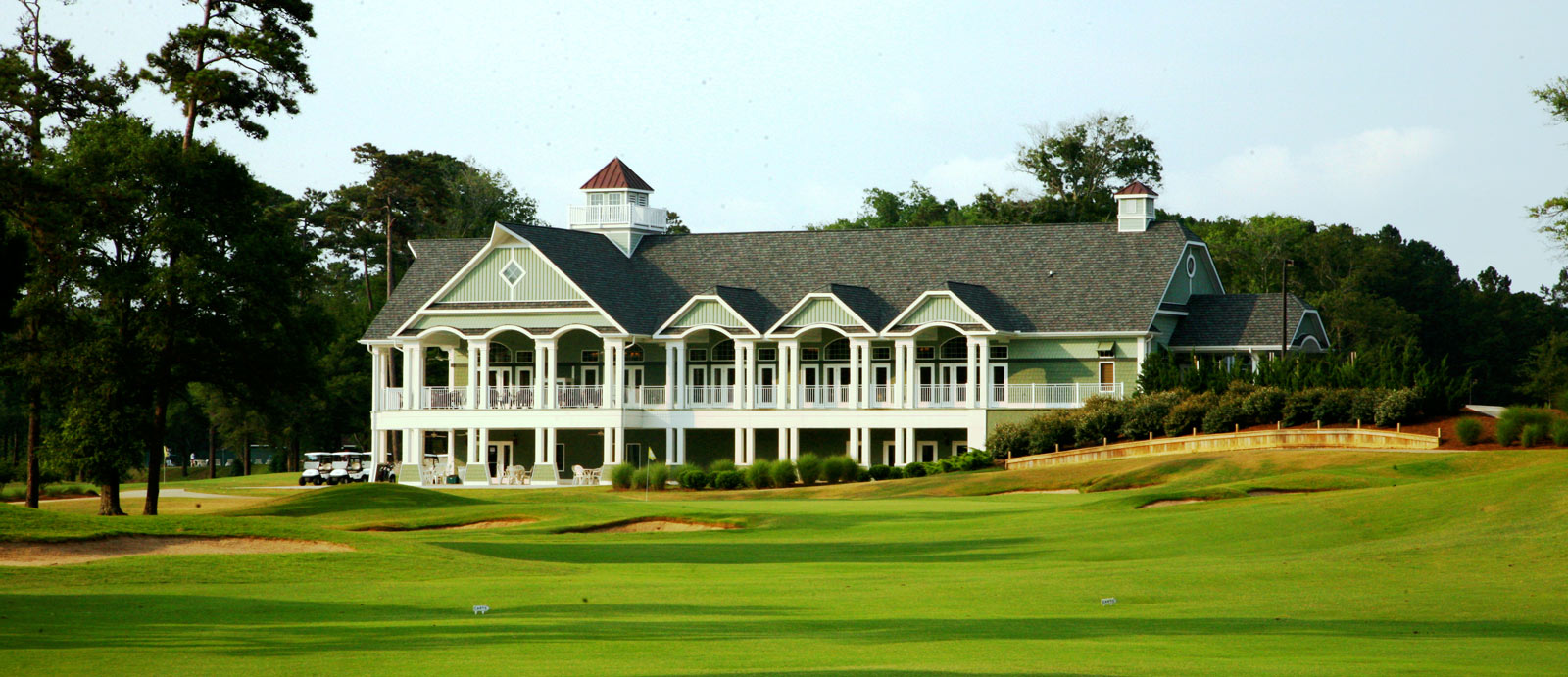 The Duck Woods Golf and Country Club is a semi-private course bordering Southern Shores and Kitty Hawk where members have priority tee times and access to the practice facilities, but times can be reserved for the public and practice facilities are available on the same day as play. Still, it is well worth a trip. The Duck Woods course is visually striking, as it was designed by well-known course designer Ellis Maples and has been a popular destination in the Outer Banks since its opening in 1969.
Nags Head Golf Links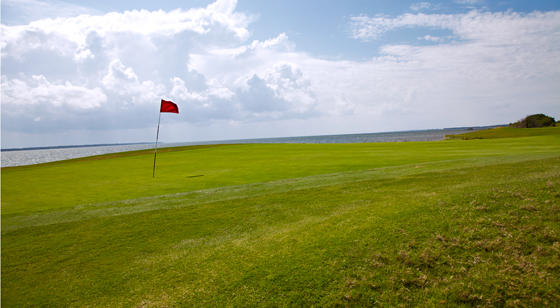 Nags Head Golf Links is listed on the top 100 places to play in North Carolina by Golf Style magazine, a Golf Week top 50 pick, and a 4.5-star favorite of Golf Digest, who named it among "the most beautiful in the Eastern United States". The championship course is known for its authentic Scottish design and for being crafted directly into the rugged coastline of Roanoke Sound by course designer Bob Moore. Nags Head appeals to golfers of varying skill levels, and is famed among both visitors and locals for its lunch specials and sunset views over the Atlantic Ocean. Some of the holes favor long-shot golfers, as some of the fairways are separated by stretches of sea dunes and wild grasses. Locals and visitors alike agree – Nags Head Golf Links is a "must-play" during your OBX stay!
Currituck Club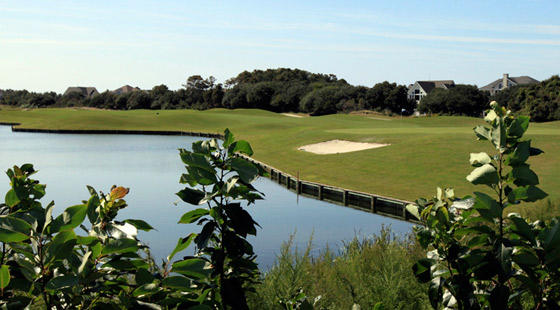 The Currituck Club is on the northern end of the Outer Banks near Corolla, and another highly rated facility in North Carolina. Its 18 holes were designed by the award-winning Rees Jones, to blend the natural vegetation and views of Currituck Sound with bentgrass greens, varying elevations, and rolling sand dunes into every round. Keep an eye out for wildlife as you play. Deer, osprey, turtles and even eagles may pass by as you enjoy your golf outing. The Club also has a world-class practice facility with instructors and classes to help you improve your golf game, and a putting green, driving range and bunker to sharpen your skills and lower your score.
Kilmarlic Golf Club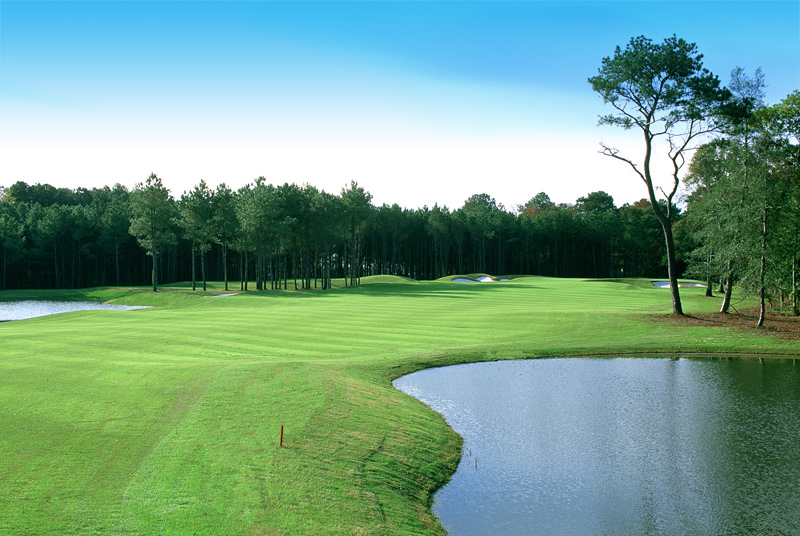 Kilmarlic Golf Club is located along the marshland of Albemarle Sound in Powells Point (a short 25-minute drive from Nags Head). It's been frequently rated among the best golf courses that the Outer Banks have to offer, and has won several awards for the way that course designer Tom Steele married nature with great golf. Here, you will find yourself challenged beneath giant oaks and dogwoods native to North Carolina, as you play among 605 acres of maritime forest and wetland. The staff keeps the course in top golfing condition year-round, but you will still find yourself challenged in interesting and unique ways on every fairway. If you choose to drive out to Kilmarlic, be aware that there is a strict dress code requiring no denim or cutoffs, and to wear collared shirts. Kilmarlic has a full-service pro-shop and group or individual lessons.
Holly Ridge Golf Course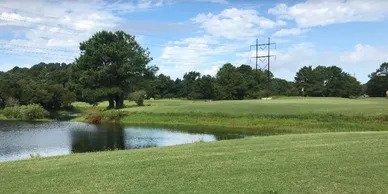 Photo credit: https://hollyridgeobx.com/
Hop off the barrier island chain and head inland for a new perspective and a family-friendly golf experience. Holly Ridge Golf Course is just a short drive (10-15 minutes) from Kitty Hawk in Harbinger, North Carolina, and it's a great spot for an affordable day on the greens no matter your skill level. Designed by Course Architect Norman Newburn, Holly Ridge Golf Course features 5,533 yards of play from the back tees. The 18-hole, par 71 course boasts a short design with big potential – perfect for a challenging, but short, game among the vibrant holly trees and towering pines. With a few bunkers and the occasional water hazard, the course is gentle enough for newcomers while still providing new territory for seasoned pros. The front nine is home to more mature landscapes, while the back nine is more open. The on-site clubhouse and pro shop at Holly Ridge offers drinks, snacks, and equipment for rental and purchase. Lessons are available from LPGA Major Champion, Cathy Johnston-Forbes. Those who wish to fine-tune their skills before the big game will surely appreciate the 9-hole practice putting green.
These Outer Bank golf courses are all a perfect way to boost your swing and see more of the natural beauty so unique to the region. Whether you plan to spend some or a lot of time hitting the links during your trip, bring your golf buddy and experience them for yourself.