From June through October, the dolphins are smacking tales, blowing bubbles, and leaping through waves in the Outer Banks of North Carolina. That makes those months the peak season for Outer Banks dolphin tours or dolphin cruises. Dolphins are curious, sociable, and spectacular to watch from the safety of a comfortable boat while on vacation. Private or group cruises are a great way to see how they behave in their natural habitat.
To help you find the best dolphin tours for cruising the Atlantic, we rounded up details for the top contenders. They all have something special to offer and tickets may sell out fast during the peak season, so book your seats as early as possible.
Nags Head Dolphin Watch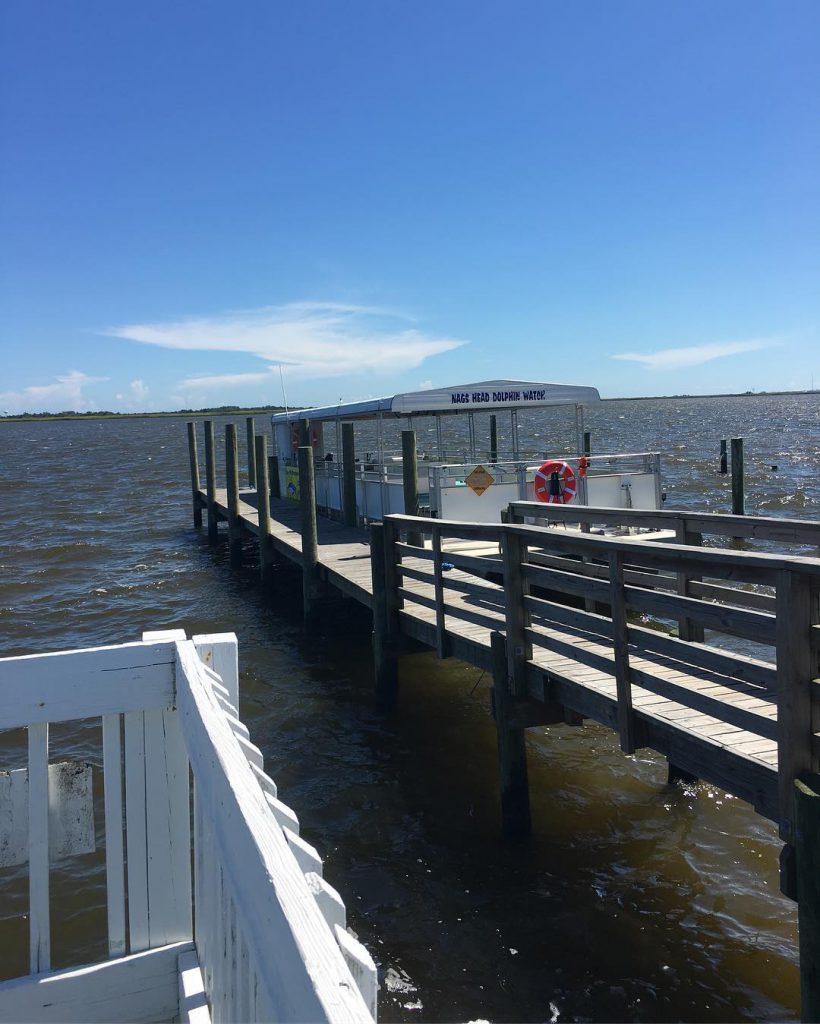 Nags Head Dolphin Watch partners with Outer Banks Center for Dolphin Research to provide biologist-operated dolphin tours that explore Outer Banks wildlife as well as dolphin behavior. Passengers hear about the dolphins that researchers have followed for years and named, including Onion and Scarlet. Biologists directly involved with research in the area tell stories about the dolphins they've gotten to know and are a wealth of information for curious cruisers.
This is the perfect Outer Banks dolphin cruise for visitors interested in learning more about the hundreds of bottlenose dolphins that cruise the area every summer. Sunset tours cost more, so go with a daylight tour if you're trying to keep your vacation budget in check.
Dolphin Tour Cost: $29 – $35 adults, $15 – $20 kids 12 and under, $1 infants
Launch Location: Oregon Inlet Fishing Center in South Nags Head, Kitty Hawk Kites Whalebone Watersports in Nags Head, or Shallowbag Bay Marina in Manteo
Phone Contact: (252)441-4124 or (877)FLY-THIS
Online Reservations: www.kittyhawk.com/adventures/dolphin-tours/
Captain Johnny's Dolphin Tours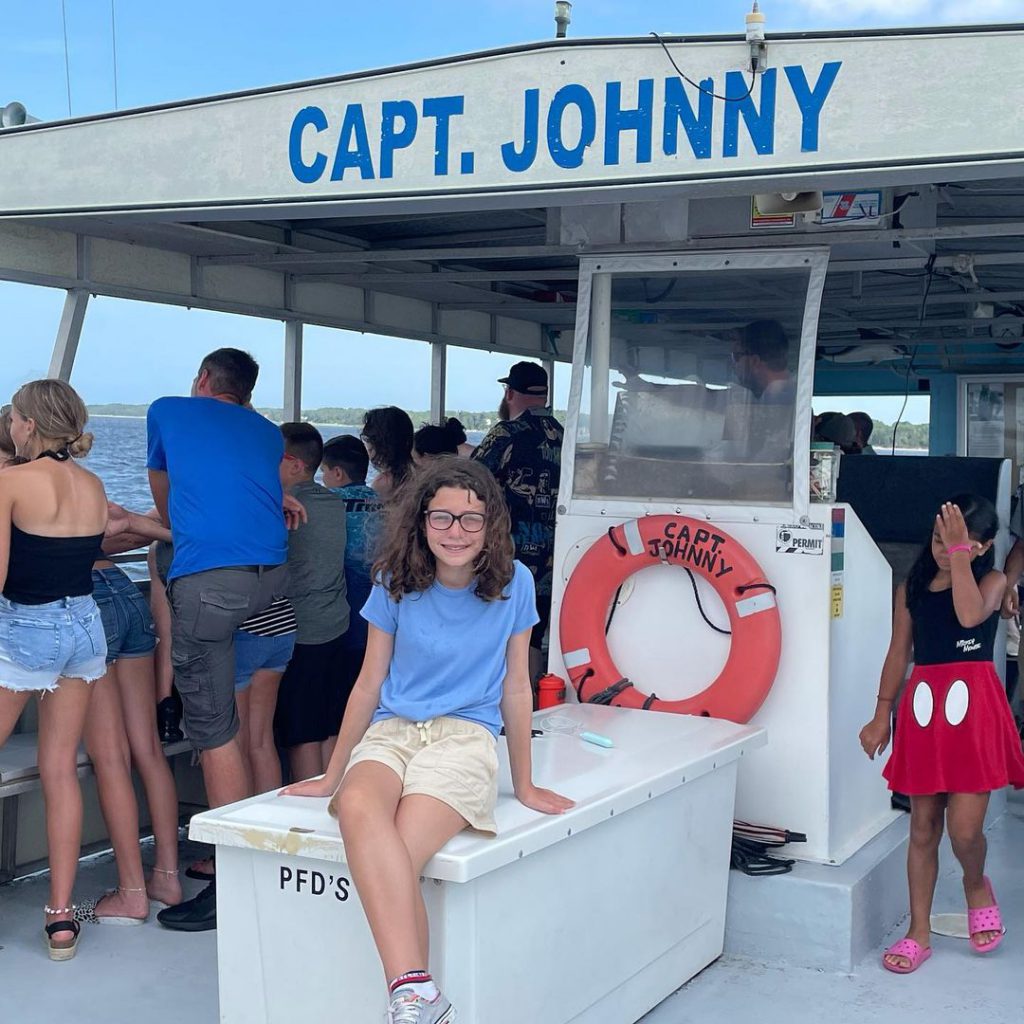 If you're looking for an Outer Banks dolphin tour that guarantees the dolphins make an appearance, consider Captain Johnny's Dolphin Watch. Morning, afternoon, and sunset dolphin tours are available Monday through Friday, May through October. Private charters are available as well.
Each tour lasts two hours and comes with narration that educates riders about bottlenose dolphins. When you arrive at Queen Elizabeth Avenue, head behind the parking lot and look for the floating ticket office.
Dolphin Tour Cost: $30 – $35 adults, $20 – $25 kids 12 and younger, $10 under 18 months
Launch Location: 400 Queen Elizabeth Avenue, Manteo
Contact: (252) 473-1475
Online Reservations: http://outerbankscruises.com/book-now
Harbor Star Dolphin Tours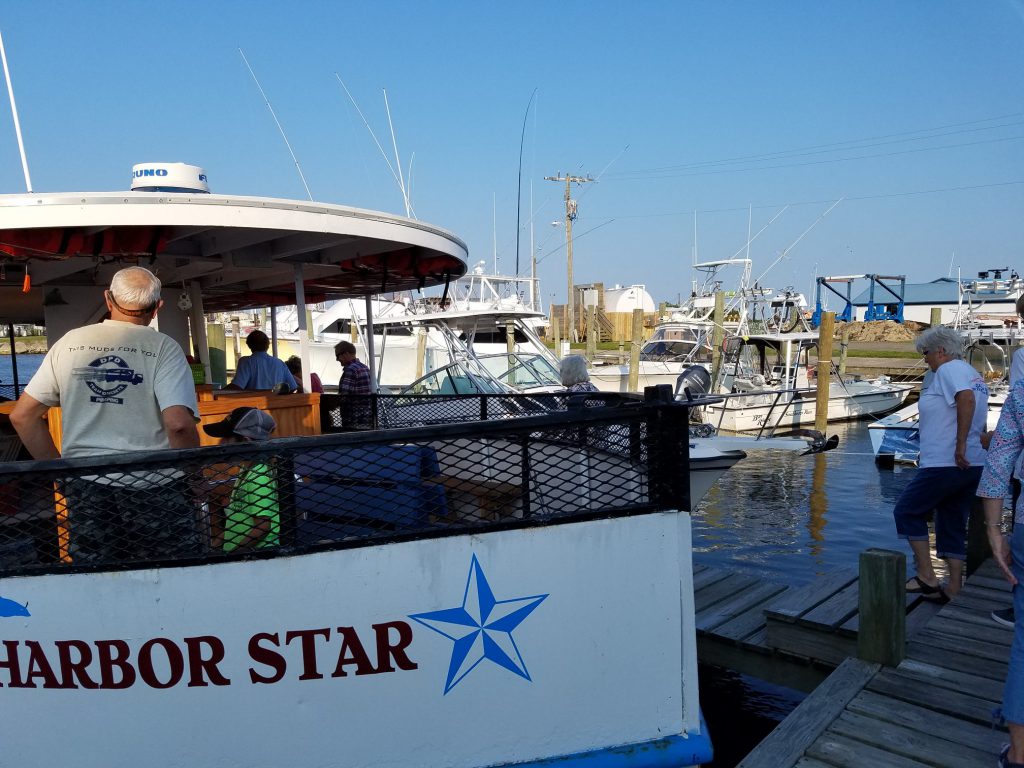 Harbor Star Dolphin Tours leave the Wanchese Marina several times a day during peak season and last for two hours. You must book tickets at least 30 minutes in advance, so this is a great Outer Banks dolphin tour option if you're interested in last minute reservations. The 50-foot boat is set up for comfort and is suitable for family members of all ages.
Make sure to stop by the Landing Grill at the marina for fresh fish caught in local waterways or delicious pizza and burgers. They also serve a full breakfast, starting at 5 a.m.
Dolphin Tour Cost: $20 – $27 adults, $15 – $17 kids, $0 infants
Launch Location: Wanchese Marina in Wanchese Village
Contact: (252) 423-3157
Online Reservations: www.wanchesemarina.com/outer-banks-charter-fishing-trips/
Miss Hatteras Head Boat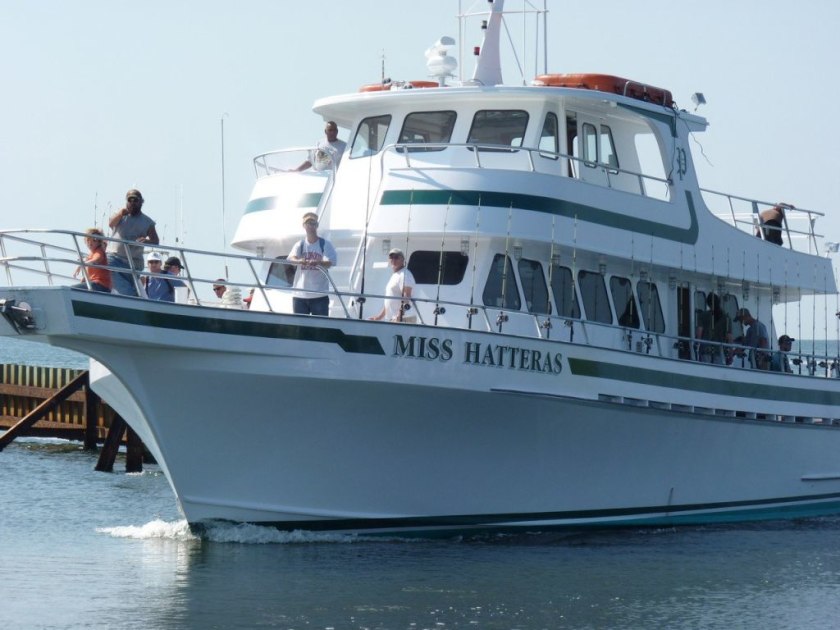 Miss Hatteras Head Boat only offers sunset cruises, but they're still suitable for the whole family. Cruises are available on Wednesday, Thursday, and Friday. You can look forward to live music onboard on Wednesday and Thursday or book a quieter more relaxing cruise on Friday.
The boat has been offering scenic cruises of the Pamlico Sound for more than 30 years and focuses more on fishing trips than their sunset dolphin watch cruises. You can still catch the dolphins at play three days a week in the summer, spring, and fall.
Guests are encouraged to bring their own snacks and drinks. Refreshments aren't sold on the boat.
Dolphin Tour Cost: $31 adults and kids, $0 babies 3 and under
Launch Location: 57878 NC Highway 12 in Hatteras
Contact: (252) 986-2365
Online Reservations: https://hatterasfishingcaptain.com/outer-banks-sunset-dolphin-cruise/
Paradise Dolphin Cruises
Paradise Cruises has been ranked #1 for dolphin cruises by Trip Advisor for four years straight. The two-hour dolphin cruises allow passengers to search the waves for dolphins while exploring local birds and taking in spectacular views of the Roanoke Marshes Lighthouse and other features of the Roanoke Sound.
Paradise dolphin cruises are conducted on a 40-foot catamaran named Kokomo. Guests are encouraged to bring their own drinks and snacks, but the boat does feature a restroom, canopy cover, and cushioned seats. You can move around freely throughout the cruise.
If you don't see dolphins on your tour, you get to try again for free! Their dolphin success rate is over 98%.
Dolphin Tour Cost: $25 – $30 adults, $20 kids 3-10, $0 kids under 3
Launch Location: OBX Marina in Wanchese Village
Contact: 252-573-0547
Online Reservations: www.paradisedolphincruises.com
Jawfly Charters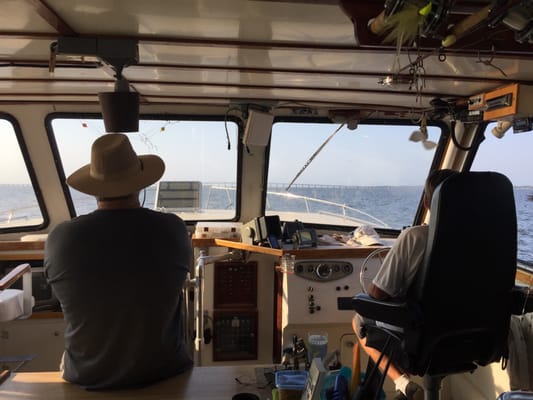 While Jawfly doesn't offer a guaranteed dolphin tour, they do offer cruises that often include sightings of dolphins plus birds and many other Outer Banks wildlife. This is a great option if you're looking for vacation rentals that will allow you to look for dolphins while enjoying some quality time with your loved ones.
You have to book the boat for at least two hours each charter. You can have up to six passengers. Stock up on drinks and snacks at the marina before heading out for your private dolphin cruise.
Dolphin Tour Cost: $150 per hour
Launch Location: Dock of the Bay Marina in Kitty Hawk
Contact: (252) 207-7798 or (252) 261-1813
Online Reservations: https://obxadventure.com/
Kitty Hawks Watersports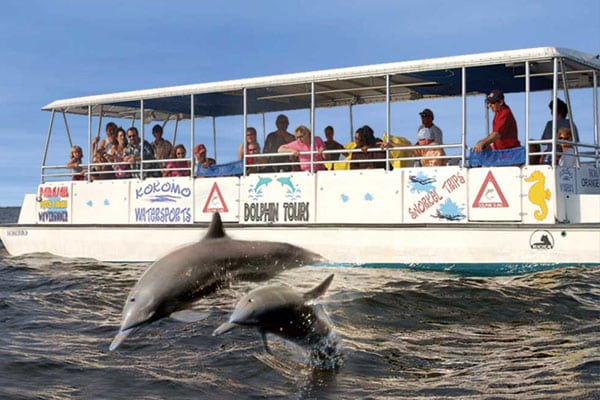 For private dolphin tours in Nags Head, look to Kitty Hawks Watersports. While they aren't as affordable as group guided dolphin tours, they do provide close-up views of dolphins and private time that you can spend with your family or someone special. Each tour lasts two hours, and you have up to six people on a tour.
Kitty Hawks Watersports is one of the largest water sports companies in the Outer Banks. In addition to private dolphin cruises, they offer paragliding and many other water activities. They're also the only operation currently offering bumper boats.
Dolphin Tour Cost: $300 per two-hour tour
Launch Location: 6920 S Croatan Hwy in Nags Head
Contact: (252) 441-2756
Online Reservations: www.kittyhawkwatersports.com/reservations/
Causeway Watersports
Causeway Watersports only offers private dolphin boat tours, but it's an affordable option if you consider the price for up to six people to cruise the Outer Banks for an hour or two. The tour takes you past Historic Roanoke Island, Bodie Island Lighthouse, and the National Seashore. You'll see a lot of birds and most likely some dolphins, but there is no guarantee that the dolphins will appear for every tour.
Causeway is open seven days a week, so it's possible to snag a weekend dolphin tour here.
Dolphin Tour Cost: $150 per one-hour tour
Launch Location: Nags Head/ Manteo Causeway
Contact: (252) 441-8875
Online Reservations: Unavailable – call them!